Search Results for Tag: unesco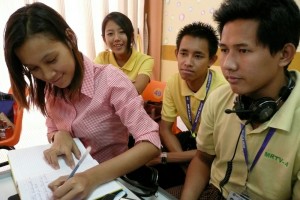 After decades of censorship, Myanmar is aiming to democratize its media system. In cooperation with UNESCO, the government recently arranged an international media conference. DW Akademie was there.
"I would like to see you all again – in a country with a free and democratic media," said Ye Htut, Director General of Myanmar's Ministry of Information, as he said goodbye to the 250 participants attending the media conference in Rangoon.
Until recently, a statement like that would have been unthinkable. "I'm experiencing Myanmar as very open in an impressive way. The atmosphere in this remarkable conference is honest and very sincere," reports Helmut Osang, DW Akademie's coordinator for media development.

read more
Tags
AIBD
,
birma
,
burma
,
censorship
,
Conference on Media Development in Myanmar
,
fes
,
MMDC
,
mrtv4
,
myanmar
,
opposition
,
unesco
,
Ye Htut
The Asian tsunami of 2004 and the Japanese earthquake and tsunami this year were two occasions where broadcasters around the globe relied heavily on user-generated content (UGC). They aired videos people had taken with their mobile phones, pictures snapped with digital pocket cameras or they simply broadcast information users had sent in via e-mail or as text messages from remote places.
These days, many radio and TV stations encourage their audiences to contribute material to their broadcasts. This gives them access to footage professional crews couldn't otherwise get – or couldn't get that quickly. And it gives the audience a voice, creating a two-way conversation with the broadcasters and making people feel like the broadcaster is there for them, picking up their stories and addressing their concerns.
Making the most of user-generated content
But how can broadcasters safeguard the quality and suitability of such content? After all, it's supplied by regular listeners or viewers: amateurs, not trained journalists. Citizen reporters haven't necessarily been taught the journalistic basics every professional has learned, like how to research facts, how to report accurately and how to be fair to all sides.

read more