Iranildo de Sousa Ferreira, Climate Champion from Brazil
Iranildo de Sousa Ferreira – International Climate Champions Brazil was a keynote speaker at Environment Week at the University of Fortaleza (UNIFOR) in Fortaleza, Ceará, June 7, 2011. The theme was "Science and Sustainability". He spoke on the Scientific Basis of Climate Change: Vulnerability, Mitigation and Adaptation. Iranildo kicked off a rich debate about the main consequences of climate change for the state of Ceará and Brazil.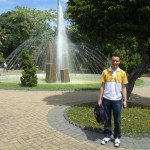 The University of Fortaleza (UNIFOR) held its Environment Week on 6. and 7. June 2011. Here I was invited to speak and debate the science of climate change. In my speech I talked about the scientific basis of climate change, using the final report of the Intergovernmental Panel on Climate Change (4AR-IPCC), the recent report of the 3rd WG-IPCC Energy and Climate Change Mitigation and the human contribution to climate change, to show the vulnerabilities, mitigation and adaptation of climate change. I also used the IPCC data and documents of the United Nations Framework Convention on Climate Change – UNFCCC, as well as the advances of the last negotiations at COP 16.
My speech ended in a debate about the main consequences of climate change in the state of Ceará in Brazil. Based on the scientific data that I used, there will be several consequences for the State of Ceará, especially the increase of extreme events like rising sea level and dryness.
Regarding to Brazil, I mentioned that the consequences of rising temperatures will be worse for the North and Northeast of the country, a region that is called one of the hotspots of climate change. It may suffer from drought and decline in its biodiversity, water availability and the increase of extreme events. I also talked about the likely increase in rainfall in Southern Brazil and launching the kit of the UN Decade for Sustainable Development of the Ministry of Environment of the UNESCO Office in Brazil.
When you ask me about what it takes to reduce the effects of Climate Change, I would say that the first thing we should do is to change attitudes towards the issue and get involved in this process that concerns us all. The first tool is environmental education, because we are building our environmental citizenship.
The Environmental Week at UNIFOR was a remarkable moment for me, because after I brought the universities to discuss the issue of climate change, I am now invited by universities to explain and discuss the topic and that is all due to the opportunity to be an International Climate Champion.