The 2017 German elections start on DW

The world is watching the 2017 German elections as the decisions made in Berlin are getting more and more attention from the rest of Europe and the world. But for many international observers, the issues driving the elections are unclear. In the run-up to the elections in September, DW is providing clear and comprehensive coverage of the election online and on DW's global TV channels under the banner #GermanyDecides.
Combining the reach of television with the interaction of social media, DW lets the audience dive into the debate and open up complicated issues for discussion. These are important social issues that are influencing voters like refugees and immigration and the rise of terror in Europe. And the big question is if Angela Merkel will remain Chancellor of Germany.
On Germany Decides – Meet the candidates, DW editor-in-chief Ines Pohl and talk show host Jaafar Abdul Karim will interview the seven top candidates from Germany's main parliamentary parties: the CDU, CSU, SPD, Die Grünen, Die Linke, FDP and AfD.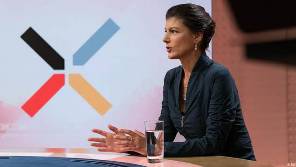 For the first edition, Sahra Wagenknecht came on the show. Co-leader and candidate from the largest opposition party in the Bundestag, Die Linke, Wagenknecht often provides alternative and outspoken viewpoints on important political issues.
Another special series, #GermanyDecides: On the road to the elections sends DW reporters Nina Haase and Sumi Somaskanda are travelling each week to six German cities to find out what matters most to Germans ahead of the elections in September.
Visiting Dresden, the Bavarian town of Wegscheid, Stuttgart, Cologne, Bremen and Berlin, at each stop they will ask people about big issues important to the region. In Bavaria the focus is on the migration crisis, in Dresden it is right-wing extremism, in Cologne they will ask about migration. By asking the people what matters they will put their finger on the pulse of the electorate.
The first edition of Germany Decides -Meet the candidates will appear on DW June 30 at 6:30 p.m. UTC and is being broadcast in English, German, Spanish and Arabic.
Follow DW's 2017 German election coverage on Twitter at #GermanyDecides .
Leave a comment