Search Results for Tag: Al-Basheer Show
How does DW continue to resonate with Arab audiences?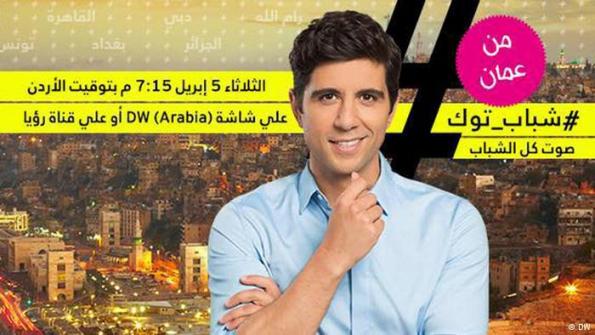 For the second year in a row, productions from DW (Arabia) have been awarded the Al Haitham Media Award given out by the Arab Media Council in Amman, Jordan. The satirical Al Basheer show won a trophy in the "free word" category. The talk show for Arabic youth, Shababtalk, won a gold award for the best Arabic talk show. Shababtalk also won the 2015 Arab Festival for Radio and Television Award from the Arab States Broadcasting Union (ASBU) for best talk show.
In the Arab world, DW's continued success is based on programming that both resonates with audiences and represents values of media freedom. Shows like Shababtalk and the Al Basheer show are a rare presence in the media landscape in Arabic countries. Because they break taboos and venture where other programs won't, viewers from across the Arab world turn to these programs for an honest perspective on important social issues.
DW (Arabia) is also a trusted and consistent source of news in Arabic that complements the variety of social issues covered in talk shows and magazines. Both pan-Arabic and national broadcasters can miss out on bringing audiences a complete perspective on issues like gender equality, democratic values and government corruption.
DW's fills a niche by sticking to the traditional values of public service broadcasting that audiences in western countries may take for granted, but which are lacking in other parts of the world. These include independent reporting, balanced presentation and maintaining a critical view of those in power. This is why DW in the Arab world will continue to see success and deliver audiences something they can't find elsewhere.
Laughing in the face of terror
Terrorism, extremism and corruption are things Ahmed Al-Basheer knows personally. The Iraqi comedian has lost two family members to terrorist militias and would face great danger if he returned to Iraq. Nevertheless, Al-Basheer maintains a strong sense of humor and directs scathing satire and absurd jokes at everyone from Islamic State terrorists to corrupt officials.
Every two weeks, Al-Basheer and his team use their own money to produce "The Al-Basheer Show" from a private residence in Amman, Jordan. Up until now the show had only been published online, and despite having more then 30 million views since its 2014 launch, no broadcaster would risk airing it.
As an advocate for freedom of expression worldwide, DW is now the first broadcaster to televise the show. Audiences throughout the Arab world can now watch The Al-Basheer Show in Arabic on DW (Arabia). In cooperation with Jordanian partner Al Sumaria, the show will be broadcast every Friday evening during prime time.  Al-Basheer has made a big name for himself and will make an important contribution to DW's presence as a beacon for reliable news and free speech in the region.
By using humor to bring serious issues to the public sphere, The Al-Basheer Show represents a small island of free expression in a sea of extremism and oppression. The success of his program indicates that there are many people in the Arab world who relate to his message and understand the deadly absurdity that extremism brings.