Search Results for Tag: DW editor in chief
'Be brave and ask questions that agitate'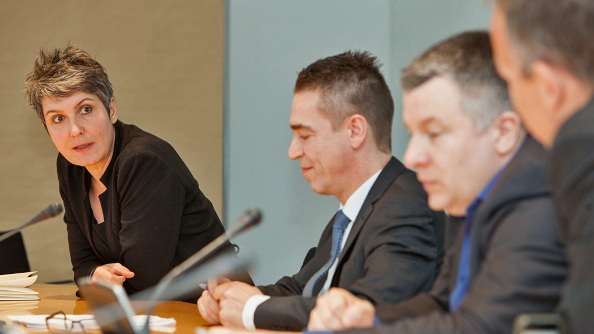 When terrorists attacked Charlie Hebdo, Ines Pohl was the editor in chief of alternative Berlin daily Die Tageszeitung (taz), known for going against the mainstream and breaking taboos. As she and her colleagues absorbed the news of the massacre, Pohl said she wondered if taz would be next. But instead of giving in to fear, she decided that taz would publish the first Charlie Hebdo cover after the attack, which controversially portrayed the Muslim prophet Mohammed. Pohl said that it was the duty of journalists to "hold back this fear and stand up for our free democracies."
Now as editor in chief at DW, Pohl will bring this courageous spirit and an innovative attitude to DW's journalism.
Before becoming editor in chief, Pohl was DW's Washington correspondent.  During the 2016 US presidential campaign, she helped lead the social media project #Whatamerica. Using short video interviews and vox pops, the project shared a unique perspective on how American's envision the political future of the US. It was also something new for DW and it demonstrated the success of engaging with the audience to tell better stories.
"The current election in the USA is an example of an increasingly polarized and short-winded media landscape," said Pohl. "Without Twitter and Facebook there would be no Donald Trump. He lives off of scandalizing, and a hunger for quotas. Nuanced and bold reporting is poison for politicians like him."
Pohl has a built a long career in journalism and while she emphasizes the importance of digital media, she also understands that interacting with people face-to-face is an essential aspect of being a journalist. "This is where I am more traditional," she said. "Whenever possible, I think a conversation should begin with a handshake. This can say so much more than a thousand words in e-mails."
Under Pohl's the direction the future for DW's journalism is in the hands of a forward thinking journalist who is not afraid to take chances. Pohl says DW gives her "the privilege to be able to work for quality and not for quotas." She especially values the international perspective at DW and will seek to promote a multimedia atmosphere and experimentation more with of social media.