Search Results for Tag: Yosri Fouda
Meet the personalities that make DW unique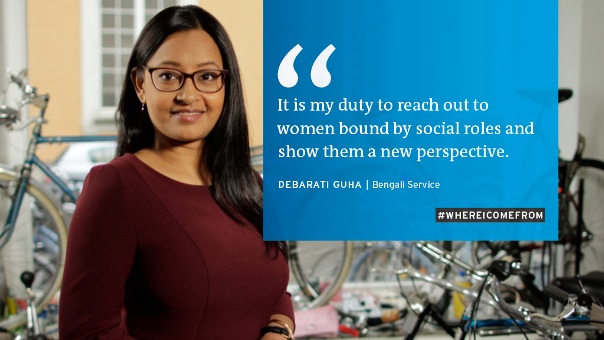 People are at the heart of every great story and a new social media campaign from DW, #whereicomefrom, is focusing on the people who make DW unique. Coming from all over the world, each presenter and anchor at DW has been shaped by where they come from and this shapes the work they do at DW.
Months of research and interviews went into compiling each story for #whereicomefrom and in the three weeks since the project was launched, the 12 profiles have already been viewed over 1 million times on Facebook. The stories are as unique as the presenters themselves and touch upon historical events, cultural nuances and personal hardship.
But what all of the faces of DW have in common is the desire to use their experience and background to expand their audiences' horizons and help them understand the world. And it is this common spirit that brought them to DW.
Lead news anchor Brent Goff came from America to Germany and was inspired by the international atmosphere in Berlin to forge a career in global news. Presenter Yosri Fouda joined DW Arabia after political oppression of the media in Egypt forced him to leave home. Russian journalist Zhanna Nemstova came to Germany after her father was assassinated in Moscow.
These are only a few of the personalities highlighted by Where I come from and there are also many more people who may be coming next.
DW brings together trusted voices for the Arab world
Free speech and open media in the Arab world is under constant strain, be it from oppressive governments or extremist groups. But through international cooperation, there is still a way for people in regions from Egypt to Iraq to access reliable and insightful information about important issues.
Yosri Fouda earned his place as one of the most respected and renowned journalists in the Arab world by unflinchingly and accurately reporting on major events and providing context and insight to his audience. Fouda reached massive popularity during the Arab Spring in Egypt with his talk show on OnTV Last Words. To protest the Egyptian government's efforts to stifle free expression, he repeatedly took his talk show off the air as a form of self-censorship.
Now, after being off the air for two years, Fouda will be back to providing audiences across the Arab world keen insight into critical issues with a new talk show, The Fifth Estate with Yosri Fouda, on DW (Arabia). As a beacon for free speech in the Arab world, DW will be returning a powerful voice to the media landscape. In Egyptian media, Fouda has been a rare outspoken figure in his criticism of those in power.
He joins two outspoken and popular voices from Egypt that DW has broadcast across the Arab world in recent years. In 2014 the popular Egyptian satirist, Bassem Youssef brought his popular talk show Al Bernameg to DW (Arabia). After fearing for his safety, Youssef stopped producing the show. In 2015 Reem Maged, a renowned Egyptian journalist began producing a talk show for women in the Arab world with DW and OnTV, Women at a Turning Point. After broadcasting for a month, the Egyptian authorities banned the show for ambiguous reasons.
The Fifth Estate will be produced in Berlin and broadcast by DW, which will allow it to avoid regional issues in preventing its broadcast. It is a prime example of how  broadcasters like DW can provide a high standard of journalism with direct local relevance to places where free speech is not guaranteed.