Delicious food for thought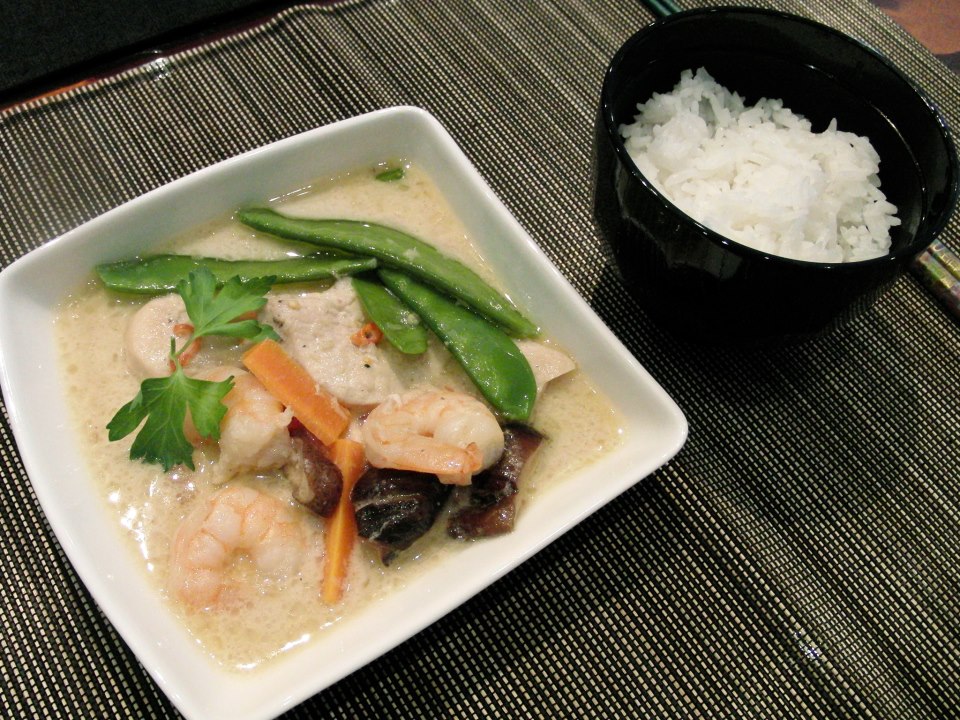 Women Talk Online reader Loy Komma sent us this recipe for chicken with coconut and lemon grass sauce. Send us your recipe – good food always stimulates one's grey cells and good food also helps us spread the word for women's rights 😉 !
Chicken with coconut/lemongrass sauce (serves four)
Ingredients:
450g  chicken breast, cut in strips, marinate in 1/2 teaspoon(tsp ) salt, 1tsp fish sauce & pepper
3 medium size stalks lemongrass- remove tough leaves and chop fine
3 cloves of garlic- chopped fine
50g ginger, grated
2 red chillis, chopped
1 can coconut milk
200 ml chicken or vegetable stock
2 lime leaves
200 gr. shrimps
1 large carrot, julienned
5-6 dried shitake- soak in warm water to soften and then slice thin
A handful of sugar snaps
Method:
Sautee chicken in oil till cooked, add the chopped ingredients andcontinue to cook for 2-3 minutes.
Add coconut milk, chicken stock & lime leaves. Let it slowly simmer for at least 45 minutes.
Add the shrimps and when cooked, add the vegetables.
Turn off the heat when the vegetables are half-cooked.
Season with more fish sauce or salt & pepper to taste.
Serve with steamed rice.
This recipe is an entry for the online cooking competition. You can send us your recipe at womentalk@dw.de or on facebook to DW-Women Talk Online. Don't forget to send us a picture of your special dish!