Women in the news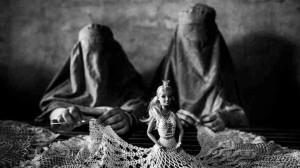 Women's rights are in danger, especially in countries where the government does not want to change its laws because of pressure from conservative groups. A group of pink ladies in India literally "beats up" people who torture women and several cases of uterine prolapse reveal severe gender discrimination in Nepal. Read more for the latest women's themes.
Rollback of women's rights, not just in Afghanistan : Polygamy, stoning of adulterers, virginity testing, and laws that protect batterers are on the rise in increasingly conservative nations. Read more in the National Geographic. Click here.
Older models: the women in their 60s, 70s and 80s who are shaking up fashionAmid a sea of teenagers, this season's most striking faces are 60-plus and have other jobs. Are older models here to stay? Read more in the Guardian. Click here.
The Lahore Literature Festival 2014 has begun. Visitors get to hear and participate in lively discussions with authors like Vikram Seth and Kamila Shamsie. Read more in the Dawn. Click here.
For defying village rules in India, a penalty of rape: practice shows limits of new legislation aimed at protecting women in the face of deep cultural resistance. Read more in the Wall Street Journal. Click here.
'Gulabi Gang' review: It reminds the vulnerability of women in rural India. Read more in IBN live. Click here.
Where's the will: Amnesty International's recent report on Nepali women suffering from uterine prolapse has indicated strong gender discrimination behind the widespread prevalence of this medical condition. Read more in the Republica. Click here.