Of Choices and Options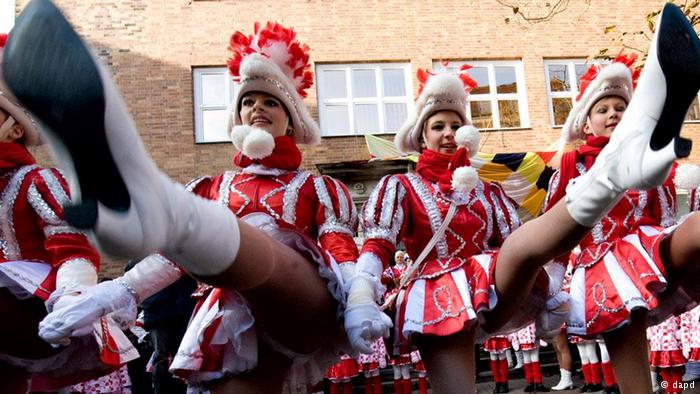 Have you been treated at a hospital by a nurse in a short body hugging dress with a plunging neckline, fishnet stockings and vertiginous heels?
Or witnessed a female firefighter putting out fires in a short body hugging dress with a plunging neckline, fishnet stockings and vertiginous heels?
Or watched a female pilot working the controls in a cockpit in a short body hugging dress with a plunging neckline, fishnet stockings and vertiginous heels?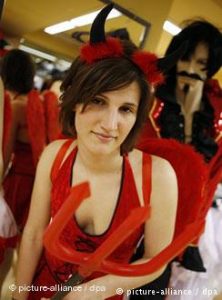 Have you noticed that I've been repeating myself?
The costumes being sold in preparation for the upcoming Karneval celebration in Germany seem to suggest certain uniformity in "uniform" costumes.
Karneval refers to the period of revelry that takes place in different parts of Germany during the week preceding the solemn Christian period of Lent.
Activities include parades, dancing bands, floats, and dressing up in costume. Depending on the region, both children and adults look forward to this season and spend much time and energy on preparing or buying costumes.
As new transplants to the German city of Bonn where Karneval is a big deal, my husband and I decided to go native and buy our costumes at the city's premier costume store that boasts four floors of costumes, masks and related accessories and makeup to help you transition into your avatar of choice.
Now, I believe that how one chooses to play dress up is a personal decision not open for judgment. Sure, there is an element of "fantasy" as we are talking about dressing up in ways we'd never do otherwise. Yet, the options available to me somewhat "prescribe" a rather narrow perception of say, women in uniform. One that differs from reality.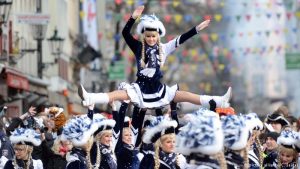 Much has already been written about "sexualized" girls' and women's costumes for Halloween for instance, with critics often questioning the disparity between the male and female variations of such costumes. For example, doctor uniforms for men are pretty much standard issue and what you're most likely to see male doctors wear in any hospital, anywhere. Women's versions however seem to suggest that they operate on some parallel universe where cloth is scarce. Ditto witches, pirates, angels, devils, even kangaroos.
I kid you not. As I waited for my husband to emerge from the changing room with his chosen outfit, I glanced over at young ladies outside the next cubicle, discussing a costume one of them had on. It was a mini A-line dress made of brown plush material with a deep neckline and what I thought was an ill-placed brown pocket in the middle. I couldn't tell at first glance what she was supposed to be.
Then my husband dawdled out in his yellow and black plush bee onesie and they both exclaimed, "How cute!" That was my cue to ask what she was and she said, "I'm a kangaroo. See the tail behind?" she asked, turning around.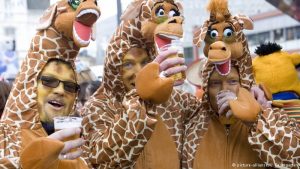 She was evidently happy with it and more power to her. Yet it was the packaging of the kangaroo outfit as a micro mini-dress with a token pocket and tail that inspired this piece.
Ultimately, to each his/her own. Given my aversion to the cold weather, going as one of the women I adore, namely Frida Kahlo, was out of the question as my winter coat would have hidden the fabulous clothes and accessories she was famous for.
So, I settled for the next best thing: a plush onesie of a unicorn. Warm, practical, reusable, and with lots of space for several more layers of clothes underneath. I'll just have to live with the pink, I guess.
Author: Brenda Haas
Editor: Marjory Linardy
_____
WTO RECOMMENDS
Almost everyone has an opinion on a woman's appearance. Some people just have the decency to keep it to themselves. From the length of her skirt, the tightness of her jeans to the depth of her cleavage, from the height of her heels to the color of her lipstick: we are all guilty of judging people by their exterior. (From September 16, 2014)
The first time my German mum-in-law saw some childhood pictures of mine, she'd asked incredulously, "Wow, you used eyeliner even as a baby?" She'd been looking at some of my childhood pictures and chanced upon one that was a tradition of sorts among my community. (From February 13, 2017)
A new cream from the experts in aesthetic endocrinology contains hormones for a fresh, youthful complexion. Deutsche Welle interviewed professor Dr. Bernd Kleine-Gunk on using hormones to fight cellulite and wrinkles.  (From August 30, 2016)
Tags
#sexism
,
angel
,
Brenda Haas
,
carnival
,
devil
,
Frida Kahlo
,
kangaroo
,
Karneval
,
Lent
,
pirate
,
stereotypes
,
witches
,
women's rights