Search Results for Tag: workshop
Workshop "Politics on the Web! Political Reporting in Social Media in Cambodia"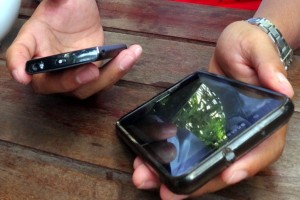 DW Akademie is calling for applications for the workshop "Politics on the Web! Political Reporting in Social Media in Cambodia". It will take place in Phnom Penh, Cambodia from December 5-9, 2016. Find out more in the links below.
The smell was nauseating and the sight quite a depressing one. The ten participants of the Climate Change Workshop in Chennai / India, along with the two trainers and our guide, had just scrambled up to the top of a building to get a better view of the Kodungaiyur dumpyard in the northern part of the city. We were there to see how waste disposal, unregulated construction, and short-sighted transportation and energy policies were harming the environment and contributing to climate change by releasing greenhouse gases and paving over important carbon sinks like wetlands.

read more
Our friend and former participant Femi Adi Soempeno was among the passengers of the Russian Sukhoi jet that crashed near the Indonesian capital on Wednesday, May 9, 2012. Our thoughts and prayers go out to Femi's family and those who loved her.
For all of us here at DW Akademie, it was a joy and a privilege to have known Femi. We loved working with her during our 2009 workshop "Online Journalism and Web 2.0".
During this three-week training course, Femi became friends with Akademie staff and trainers and with the other participants; journalists from Cambodia, Bangladesh, Bhutan, Indonesia, China, Pakistan, Nepal and the Philippines.

read more