All routes headed for Frankfurt
This is the third guest post as part of our series accompanying the WWF Youth Bike Tour this summer. Still having sore muscles from the previous day's leg Tamara Nausner and her fellow cyclists lost little time to ride on to Frankfurt. It was the last stretch for our guest blogger.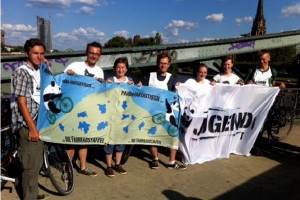 Today is a very special day. The bike tour really are two – one that traverses the country passing through the Eastern states, the other following a route in the West. But both will be merging at the end of today's stretch. Filled with anticipation we are riding out of Wiesbaden, although our bodies hurt quite a bit. But: no pain, no gain. And after a while I get used to it and can enjoy the journey again along the river Main. I like the route more than the one yesterday because for the most part there is no road and no cars. At one point we even have an abandoned motorway all to ourselves. Some of us are cycling as fast as they can. We are all having fun.
We arrive at Frankfurt quite early. The riders from the Eastern route inform us that they will not be here for another few hours. To pass the time we treat ourselves to ice-cream, play cards and relax in the grass near the Main. Eventually the others arrive. Together we take a picture of the banners of the two teams now united.
For me and some of the others the bicycle relay is over now but the rest will ride on in the spirit of climate-friendly travel. I am so glad I took part and hope that there will be another tour next year. And I also hope that we could help encourage people to think about what they can do to protect our environment.