'I can't hold a gun in my hand and shoot'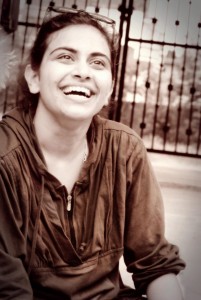 Most of the women in Indian administered Kashmir never think of choosing theatre as a career option. Even if they want to be a part of theatre, the conservative set-up forces them to opt for a more "decent" career choice. In a place where no woman has ever dared to work for theatre, Ifra Kak took the first step. Born and brought up in Jammu, Ifra is the daughter of Mushtaq Kak, a well known theatre actor and director.
Ifra talked to DW – Women Talk Online about why she chose theatre, her experiences and why she thinks that women in Jammu and Kashmir (J&K) are reluctant to be a part of theatre.
Q: Have you studied theatre?
Ifra :  I was always interested in arts always and we don't have a Bachelors' degree in theatre here (in the state of Jammu and Kashmir) in any college, so I chose Education, Philosophy and Political Science. I always wanted to pursue an academic programme in theatre, so I decided to go for a Masters' programme in theatre arts from the central university in Hyderabad. I was the first girl from Jammu and Kashmir who did this. I was fortunate enough to participate in12 major workshops in the field of theatre, both before and during my university education.
Q. Did you always want to be a theatre director or did you have other dreams as a child?
A. (Smiles) I was a very mischievous kid, so whenever I got a day off from school, my mother would send me with my father.I attended meetings with his script writers, actors, organizers and rehearsals and I used to sit quietly and watch my father working. What I noticed during the rehearsals was that all these people are doing what my father was explaining to them and I just loved the way he explained things to his actors. I use to sit with him the whole night when he used to paint posters for his play. That was when I decided to become a director like him. There was never any other dream other than theatre in my life but yes, after the 10th standard my mother wanted me to be a doctor but that not was really not my cup of tea.
Q. Is there any such time or moment that you call a turning point in your life?
A. When my father was the Artistic Director of the Sri Ram Centre for Performing Arts in New Delhi, he took me with him. That was the time I realized that I am good for nothing else but theatre (smiles). I witnessed a lot of theatre during those days. I read a lot about theatre. I came back to Jammu after two years and took admission in the Parade College where I did my bachelors.
Q. What inspired you to be a theatre director?
A. My Father. He has always been a role model. And the most inspiring thing about him is that he is the man who had never had any kind of formal training in theatre and still he headed a theatre institute for almost 10 years. He had made a name in this field only because of his work and dedication.
Q. Tell us about the projects that you have worked on?
A. I have designed and directed two devised projects. One was "Self stories" which was a result of a 15-day-long theatre workshop with the artists of the Amateur theatre group at my university and the other project was a result of another 15-day-long theatre workshop with the inmates of the Kot Bhalwal Central jail in J&K. I was the first girl in J&K to take that step. Another one is "Sordid tales of suffering", a concept performance about the atrocities on women in Kashmir. Apart from that I had done the Dramatization of Lydia Avilov's autobiography, "Chekhov in my life" which was awarded the Mahindra Excellence in Theatre award and best of the year production by the Sahitya Kala Parishad(Literary Arts Society) in New Delhi. Apart from that I was the lighting designer for the play "Ghair Zaroori log" (Unimportant People) which was performed in the prestigious Nandikar National Theatre Festival and the Ritwikk International Theatre Festival.
Recentlly a five week long theatre workshop was organized by Amateur Theatre Group in collaboration with National School of Drama, New Delhi and I was the camp director of the workshop. The workshop was culminated with the performance of "Do Kodi Ka Khel", an Indian adaptation of the German playwright Bertolt Brecht's 'Three Penny Opera.' It was Designed and Directed by me. The play is going to participate in two national theatre festivals also.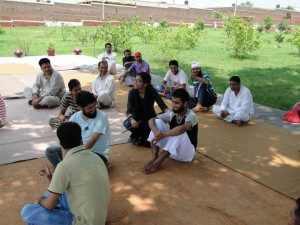 Q.  Any memories while working, that you would like to share with us?
A. It was a wonderful experience while working in the Kot Bhalwal Central Jail, but during the discussions with the jail inmates some incidents left a mark in my life. One was that there was a young boy who was participating in the workshop. During an interactive session he gave me  a locket and told me that his sister was getting married on the same day. He was in jail and didn't know if he'd ever go out. He said, "Keep it with you, I will think that I have given this to my sister as her wedding gift." Another memory was when, on the last day of the workshop, all 40 jail inmates asked me, "Madam, were you never ever scared to come and work with us?" I gave an honest answer, that I was scared on the first day but the feeling went away just like that, on that day itself. They all were literally crying when I left and made me promise that I'd come back again to work with them.
Q. Kot Bhalwal Central Jail is one of the most sensitive prisons of the country and you have worked with the inmates. How did it feel?
A. I was trying to explore the therapeutic possibilities of theatre. It was indeed a wonderful experience and learning too. It took three days for me to motivate one of them to come on stage and perform. At last, he came and shared his letter, which was a part of performance. And the most difficult task was to deal with a very young boy who was suffering from depression as he was in jail. I tried to let him come out of his depression through my medium which was, of course, theatre.
Q. Please tell us how does it feel to be the only women theatre director in J&K ?
A. Indeed, it feels great when people appreciate me for being the first academically trained woman theatre director of the state, but I don't want to be known as only woman theatre director of the state. I want other women to take active part in theatre and go for academic training theatre as it gives more exposure.
Q. What are your plans for future? Are you currently working on any projects?
A. These days I am working on a new production by Ariel Dorfmann called "WIDOWS" in J&K. But yes I am struggling to get women on stage. Other than this I am planning another concept performance of "Sordid tales of suffering" which I had earlier done in Hyderabad as a student.
Q. What are your views on theatre in Kashmir as Kashmir is a conflict region? Do you think conflict has had any effect on the development of theatre in Kashmir?
A. It has had, for sure. Talking about Kashmir as a conflict region is quite easy. I can talk for almost two hours but working here is difficult task. But I am sure one day I can overcome all the obstacles. And I can't go on the war front to fight, I can't hold a gun in my hand and shoot, I can't give lectures, but of course I can try to bring some change through the medium of theatre.
Q. Why do you think women don't chose theatre as a career option in J&K?
A. (Smiles) now this is the question for which even I am struggling to get an answer. Could be because there is still this orthodox thinking in society that a girl who does theatre is not a perfect girl for to get married to. But I can surely see some girls are taking active part. Recently a comedy theatre festival was organized by Jammu Kashmir filmmakers and artist Co operative Ltd and felt so good that there was a production called "Bhand Pather" and for the very first time, a girl was portraying a character( girls never perfrom in bhand pather). And I wish more would come forward and take theatre as a career option.
Q. Is there any message for the youth in Kashmir, particularly girls?
A. (Laughs) I don't think any message from my side is going to work. When I chose theatre as a career I didn't read any one's messages. I just saw people working. So I think let them see me working and struggling. I am sure they will definitely come forward.
Interview: Ronaq Zahoor
Editor: Manasi Gopalakrishnan