Paradise on earth
Paradise has colours of its own, bright and rare! Kashmir has been called the paradise on earth so it sure does have colours. But what kind of colours are these? Conflict has ridden this place and the minds of its people into shades of anger, frustration and hopelessness. From nature's golden greens to the black, grey and red shades of conflict, the paradise has had a paradigm shift.
Colours have a kind of magic around them, depicting life in its varying degrees. Painters from all ages have been trying to capture this magic. In Kashmir, this magic now catches hold of painters thanks to an Australian lady who has gone out of her way to help Kashmiris tell their stories through art.
Dena Lawrence, an art psychotherapist and artist, and a professional member of the Australia and New Zealand Art Therapy Association, came to visit Kashmir in July 2010 as a tourist, at a time when Kashmir was grappling with curfews and street protests. Kashmir left a huge impact on her, "This land of Artisans, mystics and poets is now a place of place of much cruelty and corruption – a place and people of extreme opposites embedded in each other, sorrow and joy, heaven and hell, pleasure and pain, love and hate. I was moved by the degree of grief and unexpressed emotions. I wondered how I could adapt the art therapy programme I created in Australia to the people that suffer in Kashmir."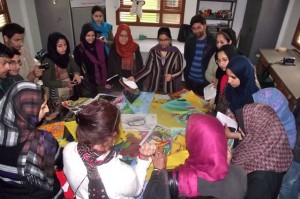 She did sort it out, followed her heart back to Kashmir in September 2010 and with help from a local journalist, Arshid Rasool, 'A Path with Art' was born. Rasool has very important in forming this group, "I saw the need for art therapy in Kashmir and knew that it would assist the people of Kashmir to express their trauma, grief and loss through this process," he says.
'A Path with Art- Expressing Untold Kashmir' as a group has reached out to the Kashmiri youth through various educational institutions. Dena has also worked with orphans and other individuals. The group is now two years old with eight visits from Dena and regulars members.
I found my way into this group earlier this year through a workshop at Kashmir University. I have found it a fascinating experience. Dena makes us work on different activities to visit the rusted corners of our brain and get the feelings out on paper. The colours of conflict are clearly evident in all the paintings. The paintings bear striking resemblance and black is usually the predominant hue.
Being a member now I have had a close experience with this group and the way it works. I didn't have the slightest idea that colours could speak so vividly. Interestingly, most of the members of the group are girls who find it a better way to give a vent to their anger. Isra Amin, a media scholar at the Kashmir University says, "I have witnessed violence since the time I was born, my colour palette has worked as a tool of expression for me. I can paint my heart out, whenever my words cease, colours come into play."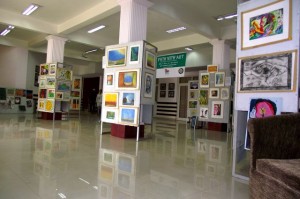 Dena looks at the art of the woman participants including me as shown with clarity and beauty – entrapment, extreme opposites suffering/joy, frustration, anger and hope.
Dena has opened the doors for us into an entire new world. There is a lot more freedom and occupancy doesn't have a hold there. With a brush in your hand and colours in front, Dena lets you create magic. At times I don't believe my own creations. "It is as if some locked corner of the brain has been opened. I have been painting but I never knew this side of me until I met Dena", smiles Badr-u-nissa, a 10th standard student.
There are other girls like Safa and Arshida, both law students, trying to convert their feelings into art. Their paintings show different colours, layers and lines that bring out different aspects of the impact that the conflict has had on Kashmiri minds.
The paintings of the members have earned a lot of appreciation through two exhibitions. Dena held an exhibition in Australia in June this year followed by one in Srinagar in July. Many of us were able to sell our work internationally.
Presently we are getting trained in art therapy by Dena Lawrence so that we can carry forward the work and reach the remote corners of Kashmir. Art therapy doesn't need a language or literacy neither does it require a person to be an artist. This is the reason it appeals to everyone and it has a huge scope in Kashmir.
Author: Benish Ali Bhat
Editor: Manasi Gopalakrishnan