Call it a 'black' Republic Day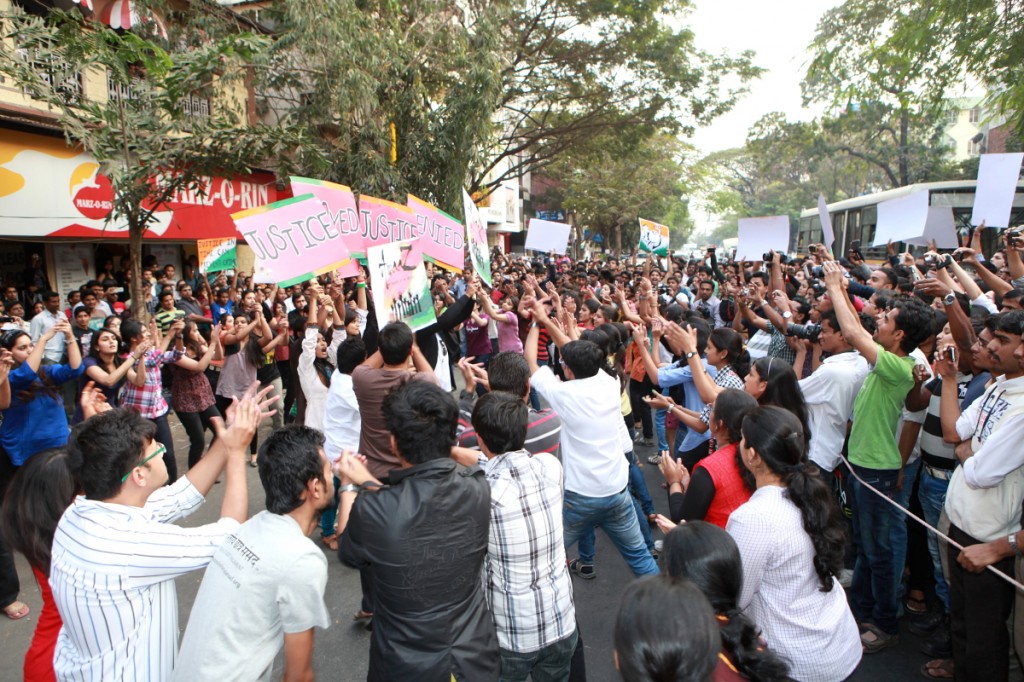 While the Indian government was celebrating its 64th Republic Day with pomp and grandeur, most young Indians were thinking that Republic day has lost its sense. The reason, they say, is that laws have not been revamped and do not ensure to justice for the victims of social crimes. Using social media as a platform to voice their protests and demands, the youth ofIndia has unified in one spirit and is  showcasing its demands all across the country.
Forums were created to call for speedy justice. With peaceful protests after the Delhi's 'brave-heart' gangrape case being looked down on by the Indian government in many parts of the country, students and the youth of India took the online route.  "If the government is not allowing us to peacefully protest we should also protest against Republic Day as there's no freedom. The gangrape incident has let us down badly and our government has not taken any proper measures to ensure the safety and security of women. They (the government) still seem to be very insensitive. We all need justice and proper laws so that Republic Day can actually mean something," mentioned Deepakk Kalraa and Siddhant Kalra, of the Black Day page in Facebook.
Abhishek Awasti a budding journalist says, "There is no reason to celebrate Republic Day in a country which does not even care to follow democracy. We are living in a country which once protested against British colonial rule but cannot handle protests against their malfunctions! I find no reason to go gaga about Republic Day and take pride in it."
Demand change in laws
While many kept their demands and protests alive on social media platforms, a group of young lawyers who passionately feel that the laws needs a revamp planned a campaign called "Awaaz", an initiative to push their demands and suggestions. The organizers planned a flash-mob to raise their demands and create awareness among all. Maithilee Chandtratre, one of the co-founders of the event says, "We believe justice delayed is justice denied. Hence we chose to raise our voice on Republic Day when laws were framed in our book called 'Constitution'." She further states, "Our aim is to raise consciousness among all the citizens and the government on the issue that laws need to change to punish the culprits and reform society."
Rujuta Mehendale, a lawyer by profession and one of the other co founders of the initiative says, "Rapes and assaults mostly take place in the middle class and lower middle class sections of the society. Many times it is seen that it becomes difficult for the family to seek justice from the Supreme Court inDelhi. The reason is the geographic distance and the economic conditions. Hence, we demand a bench of Supreme Court be set up in every state of the country to make hearings faster and effective."
Mindset too needs a change
Apart from laws and the set-up, young people feel the way sensitive cases like rapes and assaults are treated also needs to change. Rutuja Pol, a law student says, "When a victim signs a petition for her case, the way she is questioned inside the court-room by various lawyers and the judge will ensure that she is raped once again. We demand lady judges and attorneys to take up these cases and deal with care."
But why does justice take so much time to punish the culprit inIndia? Rutuja explains, "There are 802 MPs to take charge as leaders of the government, and only 32 judges in the Supreme Court. Hence justice gets delayed and finally denied. We need more judges to effectively and efficiently solve these cases." However as per records, the number of rapes recorded by the police and the actual number as per the medical records vary considerably. "It is the mindset of the people that is responsible for it. It is seen that in 60 percent of the cases the family diplayed a negative attitude towards the victim and hence these crimes are not brought to light. We need people to be active and raise their voices against a crime, while police and government guarantees that law will take care of her dignity and respect."
When the young people of a country rise up for a cause, it should always be welcomed. However, the way Indian government has treated young people calling for justice is spoiling its image internationally. Laws should be checked and revised regularly as a society progresses. This can help society keep crime in check and keep the country on the road of progress.
Author: Debarati Mukherjee
Editor: Grahame Lucas