One year in India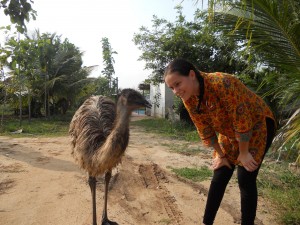 Simone Umbach, a student of Koblenz University, is only 22 years old, but has already traveled a great deal. From July 2010 to July 2011 she spent one year as a volunteer in Pudupakkam, a village near Chennai. Meike Pohl describes Simone's experiences.
Simone decided to spend one year as a volunteer in Puduppakkam, a village near Chennai, the fourth biggest city in India. There she lived with one other German girl in a host family. They both worked as primary school teachers, teaching English and science for 4th and 5th graders.
But how does a young German girl get the idea of going to India for a year?
"Actually I didn't choose India as my preferred country to go to", Simone says. "I actually wanted to go to South America, but there were only free places available in Thailand and India, so India was my second choice."
Her family was surprised and at first, not very happy about her decision. "They told me it is dirty there and were afraid I would get infected with malaria or other diseases", Simone explains. "But I had some concerns as well. I had heard about the diseases, the dirt and lots of noises", she tells me. "I was also worried about the spicy food." But in the end, the dirt and the noise turned out to be not that big a problem and the food was even tastier and more delicious than the food she had known before.
Simone's first impressions of India were varied. "Everything was so different", she says. "On the one hand, it is less comfortable there, because of the heat, dirt and the loud and crowded places. On the other hand, it was so exciting to see something completely different."
A white girl in India causes a lot excitement in a village like Pudappakkam. "It is not common to see foreigners on the streets there, so when the Indian people see one, they are likely to stare at you. They don't mean it in a bad way; they are just interested in something they are not used to", Simone explains. Especially young guys reacted to her appearance. "They always wanted to talk to me and asked me for my phone number, just because it is cool to know a western girl."
During her year abroad Simone noticed a lot cultural differences between Germans and Indians. "In India, women usually do the household and men work to earn money. They don't have hobbies like sports or playing an instrument, but it is nice that there is a sense of community everywhere you go", she says. "For example, when you are on the bus, the people who are sitting carry the bags of the standing people on their laps and everyone shares their food and water."
But these cultural differences did not always make it easy to get along with an Indian host family. "One day, the other female volunteer and I invited over two male German volunteers. My host family was very unhappy about this, because they were worried about their reputation in the village", Simone tells me. "And my host mother had also been the director of the school we were teaching at and in her opinion, we were not strict enough with the children."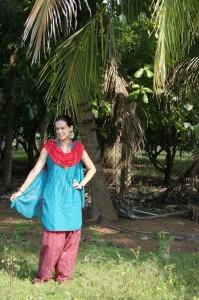 Consequently, Simone also had her share of bad experiences. "One day in class, I was desperately trying to make the students listen, but because I was being too nice and didn't hit the children like the other teachers did, the kids did everything else but participate in my lecture. So I needed to leave the room for a minute." In the end, the bad day turned into a good one. "When I came back into the room, the children were all sitting quietly on their chairs, with their books open", she says and smiles.
In her free time, Simone travelled around the country. "I saw Delhi, the Taj Mahal in Agra and visited Jaipur in the north of the country. But mostly I was travelling around the south to Bangalore, Mahabalipuram and Coimbatore. Coimbatore has a very beautiful Ashram, where they teach Yoga. I spent a lot of time there." Simone also went to the beach, but visits to Indian beaches were a lot different from what she was used to. "Women go into the water with their clothes on, because they are not supposed to show too much skin", she explains. "Also, most Indians can't swim, so they just play or stand in the water. Furthermore, people don't lie in the sand like they do, when you are on vacation. They just stand in the sand, watch the water and talk."
All in all it was a beautiful and great experience for Simone. Not only did she learn a new language, Tamil, which is only spoken in Tamil Nadu, she also learned a lot about India, its people and culture.
The year changed her.  "In many ways I have changed ", she says. " My hobbies and interests have changed and also what I want to do with my life. My sense of taste and style has also changed. Now other things seem to be more important to me than before. I am not so picky anymore about cleanliness and comfort."
Simone would recommend a voluntary year to everyone. "You get to know yourself a lot better, you become open-hearted and you learn to understand other people, even if they are different from you. It is a great chance to get to know a country, to learn about its culture and to meet new people."
Author: Meike Pohl
Editor: Manasi Gopalakrishnan