A little help for our friends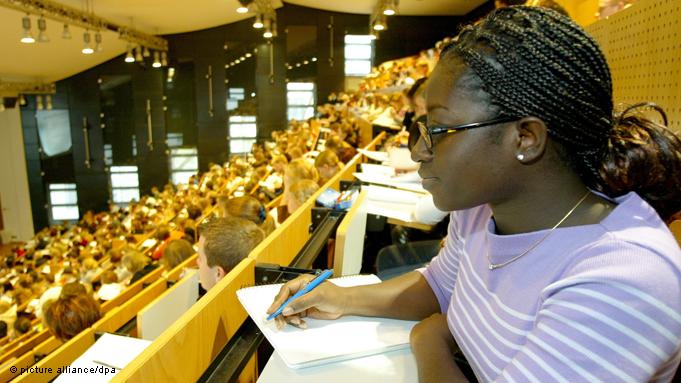 I've been helping out at Deutsche Welle in the last few weeks and have become very interested in Womentalkonline, a blog and Facebook page that a small team of editors does for women across Asia. It inspired me to write a little about what my school is doing to help girls and women in Africa. Maybe something like this can be done in Asia. Perhaps it is already happening. It would be nice to find out more about this kind of thing.Since 1996 my school, the girls'school "Erzbischöfliche Liebfrauenschule Bonn",– in cooperation with the Salesians of Don Bosco– has been supporting the education of girls and young women in Sunyani, Ghana, West Africa. The idea behind this is that as a girls'school in Germany we think that "Girls help Girls"is a very important motto.
One of our teachers at Liebfrauenschule Bonn is in charge of the Ghana project. In 1997 she founded the "One-World-Group". Students in the 9th to 12th grades have joined the group to contribute volontarily to the project. I joined the group a year ago because it means a lot to me as a young woman in Germany to be able to help young women and girls in Ghana.
We on the one hand are supporting the education of girls and young women by helping to pay their school fees and for registration, their school books and uniforms etc. and on the other hand we are raising money for a building project to establish girls'hostels, schools and boreholes in the villages in rural areas. Our parents are also supporting the project.
Some of the members of the project have had the chance to visit Ghana for four weeks during our summer holidays so that they can carry out some voluntary work over there. They told me it is anything but a holiday! Working on this project for girls and women is really hard work. They spent the whole day in the hot sun of West Africa. The situation there is so different to the European climate. It was a really shock for the girls from my school. But when they came back they were so glad they had been to Ghana for the project because they could see how grateful the Ghanaian women and girls were.
On three occasions some of our German group were joined in Ghana by a group of students from a school in Wrocław / Breslau in Poland. We have started an annual exchange programme with this Polish school that takes place every year. This was a really nice experience for all of us working across borders to help these women and girls in Ghana.  The voluntary work in Ghana we carried out comprised teaching classes or giving assistance in the construction of schools in the mornings and organization of games and sporting activities for more than 250 children in the afternoons.
But it is also important not to forget that projects like this should also be fun. The German and Polish students played, danced and sang with the Ghanaian girls. And they replied by teaching the girls from our school Ghanaian songs and dances. It was an experience the girls from Liebfrauenschule in Bonn will never forget.
Before our students went to Ghana they were a little worried that it would be difficult to get to know the women and girls at the project in Ghana. Nothing could have been further from the truth. They soon struck up friendships. At the beginning, the Ghanaian girls were often surprised about how white our skin is. They don't see Europeans in their every day lives.  But such differences were forgotten after just a few minutes.
But I am sure you are wondering where the money for this project comes from. Actually the whole school community in Bonn is involved. In order to collect money our group organises a cake sale (we call it "Ghana cake") once a week. We organise stalls with handicrafts from Ghana during festivities at our school, for instance on "open days" etc. We also organize special activities for the entire school for the benefit of Ghana projects such as picture shows from Ghana with fundraising activities and information days for parents and friends etc.
Furthermore, many of our classes have taken on the sponsorship for a Ghanaian girl student and collect money from students at our school, financed largely from pocket money. Sometimes they only seem like small amounts to us but these small amounts go a long way in Ghana. For example my class supports 5-years-old Deborah. In the last 17 years we have been able to support the project to the tune of more than 700,000 €.
We plan to continue this project. Our teacher says quite rightly that "Having made a contribution to the good education of girls and fostering them and their interests is definitely a good feeling". I think so too and hope that I can go to Ghana one day a make a small contribution of my own to help the girls there get an education.
Author: Vanessa Fabula
Editor: Manasi Gopalakrishnan
Vanessa Fabula is a student at the Erzbischöfliche Liebfrauenschule in Bonn.