The big Indian family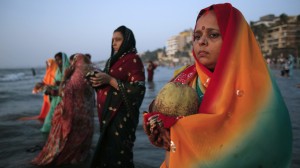 The joint family system in India has been a part of Indian culture for centuries, but with rapid development and industrialization, this tradition is now being replaced by nuclear families.  At the Hamburg India Week, experts discussed on how this change of values is affecting the mindsets of Indians.The Hamburg India week was organized by the Indian Diaspora in Hamburg together with the state government. The week-long activities focused on discussing the rich culture and traditions of India and the challenges India faces as it emerges as an important player in the world. Coming from Pakistan, I was particularly interested in the changing family traditions in India, the reasons behind this transformation and how well Indian society is accepting it. That is why I chose to attend a discussion on this issue.
The program was titled, "Paradigm Shift in Traditional Family System in India." Speakers of Indian origin, Dr. Ram Prasad Bhatt, who teaches at the university of Hamburg, Priya Esselborn, who is working at team leader of the Hindi department at Deutsche Welle, Bonn and German speaker Dr Doris Hillger, who is a sociologist and has spent many years in India as a researcher, spoke on this issue and explained how they see the changing situation.  Indian Consul General Dr. Vidhu P. Nair who was also the chief guest started the program with his introductory remarks.
According to Nair, three  in every five households in India are nuclear. 63 percent households in urban areas and 59 percent households in rural areas are nuclear. He believes that industrialization has moved many people to the cities which has weakened an individual's links with the extended family. Better education, transportation facilities and conflicts within families on property issues are some of the factors which forced people to move to the cities.
He also mentioned that educated women in India are now becoming financially independent and now expect men to help with housework. This is not uncommon in western countries but still in many eastern and especially South Asian countries not many men help out with work at home.
Dr. Prasad, also stressed that family system in India is undergoing enormous changes. According to him, "In India, there is a disintegration of the joint family system, there are inter-generational conflicts and the divorce rate is also increasing."
He also believes that  besides having a traditional and nuclear family system, India is also witnessing an increase in the
post-nuclear family system which consists of homosexual couples, live-in couples and single parents. The Indian supreme court has issued an order according to which a couple living together for five years are considered legally at the same level as husband and wife.
Interestingly, according to one of the surveys that Dr.Prasad referred to in his presentation, 64 percent people want their husbands or wives to be a virgin, but on the contrary 44.3 percent of young people found live-in relationships to be acceptable.
Dr Doris Hillger argues that the joint family system in India has been one form of the many types of family systems that have been existing in India. Among the landless, nuclear families have always been dominant. She believes that despite modernization, female participation in India's workforce is still very low. The number is increasing only in urban centres and because of better income from agriculture, the female workforce is actually decreasing in rural areas. Hillger stresses that women in India still face difficult circumstances. She also shared results of one of the surveys, according to which even highly-educated professional women in India preferred their families over their career.
Priya Esselborn, team leader at Deutsche Welle in Bonn, shows another side of the picture. According to her, "India has very progressive laws against dowry and female infanticide, but it's the implementation of the law which is not happening. Corruption is also a big problem." Priya believes that if one wants to understand the Indian culture than they must see Bollywood movies. In her presentation, Priya mentioned the movie, "Dilwalay Dulhaniya Lay Jaingay," a movie made in the late 1990s.
She says it was movies like that which showed a strong family bond and rich Indian traditions, but recently movies such as Salam Namastay shows the life of a live-in couple. She says that movies like these reflect the changes happening in India.
Author: Beenish Javed
Editor: Manasi Gopalakrishnan
Beenish Javed is a reporter working for ARY News, Islamabad. She has been awarded a two-month long fellowship by the Friedrich Ebert foundation (FES) in Germany and is currently in DW, Bonn. You can follow Beenish on Twitter @Beenishjaved.