A little bit of India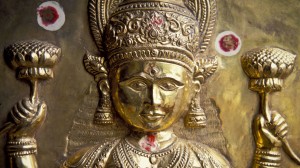 I attended a few sessions at the India Week in Hamburg and in almost every event, a discussion began about the role of women in India and how they were treated by men. After the Delhi rape incident in December last year, I thought that women were unsafe in India more than in any other part of the world, but my opinion underwent a change.
At one of the sessions called, "Hamburg:  India in my mind,"German speakers shared their experiences and perceptions about India. Indians talked about their experience of being in Germany. During the session, the discussion on violence against women got intense when a German woman shared her experiences. She felt that India was unsafe for women and was horrified by the aggression among the men there.
This argument was countered by Gopi V. Prasad, who owns a company, Gioman, in Germany. According to him "It is true that the rape occurred in India, but it also true that the whole student community and women protested against this heinous crime." Prasad suggests that the positive side should also be seen by the international community, "The protestors were so enraged that they went outside the ruling Congress party leader Sonia Gandhi's home, she had to come out and talk to the protestors. This is the new Indian society which now has no tolerance for rape," he added.
Dr. Ram Prasad Bhatt, who teaches at the University of Hamburg, also made an interesting argument. According to him, "After the rape incident, the judiciary has emerged powerfully, all five convicted in the Delhi rape case will now be punished, the government had to change its criminal law just because of public outrage."
Student Exchange Programs
Besides intense issues like this, most Germans present at the event were excited to know more about India. Arun Dew is a teacher and he plans to take his class to India. " When I was a student, I wished to go to a far away place like India, but now its possible and I want my students to see the different standards of li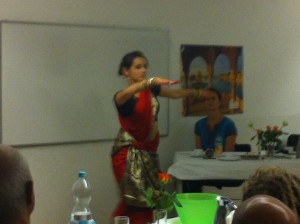 fe in India, to see how children of their age live in that country."
Sarah and Jonas are two students who will soon be travelling to India. When I asked Sarah about negative news about India worrying her, she responded by saying, " I am not worried, it is a great experience that i will be travelling to India with my class, I am very excited about it." Jonas, whose sister had already visited India in a student exchange program also showed his enthusiasm for visiting India. Nikhil Sharma, a German of Indian origin talked about the poor education system in India. "In poor states in India, the teacher doesn't come to school, because he is not paid well, the classes are filled with 80 to 100 students."
The Indian view of Germany
Harish Baba, an Indian, who is working in Germany from last 8 years spoke about the working attitudes of Germans. According to him, " Indians quickly adjust to new environment, they become emotionally attached to their jobs and organizations they work for, Indians are also good in multi tasking."
He believes that Germans are very different from Indians when it comes to work. "Germans only work in their specialized fields. They take their time but when they do something, it is perfect. Indians would do something very quickly but sometimes the errors remain in the work they do," says Baba.
Moshmi Soho, an Indian who is working for Airbus in Germany says, "Because of the good transportation system here, I can work far away from home, but in India you cannot imagine traveling such a distance everyday." She also finds it strange that in Germany you are expected to know your work well. From the very first day, you are not allowed to relax, you have to be really good at your work.
Author: Beenish Javed
Editor: Manasi Gopalakrishnan
Beenish Javed is a reporter working for ARY News, Islamabad. She has been awarded a two-month long fellowship by the Friedrich Ebert foundation (FES) in Germany and is currently in DW, Bonn. You can follow Beenish on Twitter @Beenishjaved.