'Mastectomy blouses' for breast cancer patients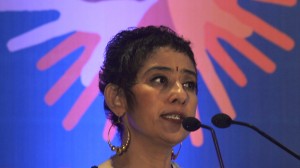 Manisha Koirala, the Bollywood actress from Nepal is known for her courageous fight against ovarian cancer. The actress is now supporting Sahachari, an organization which has developed special "mastectomy blouses" for breast cancer patients.Bollywood actress Manisha Koirala feels that ovarian cancer is attached with a lot of baggage in our society. "I respect life and the living a lot more now. I want to do my bit to raise awareness about cancer. I feel that we should stop attaching a lot of baggage to this ailment because it won't do anyone good," Manisha said at a cancer awareness event held in the Indian capital, New Delhi.
Manisha also unveiled the specially designed mastectomy blouses at the fourth edition of 'Design One', a social endeavour by the Sahachari Foundation. "Having gone through the experience of cancer myself, I feel support in any way or form is an important part of the healing process. I hope these specially designed blouses will give that much needed boost to women who have fought breast cancer and survived it," Manisha said about the initiative.
Dressed in a floral overcoat and a matching floral-neck piece, the award-winning actress was a sight of poise and grace as she answered queries about her health and her battle with cancer. Talking about the cosmetic solution to the cancer woes of women, in the form of a prosthetic blouse, Manisha says that it is a matter of personal choice. "There are women who are scared to face the world after they are diagnosed with cancer. They want to look presentable and such initiatives give them that choice. It is actually a matter of an individual's choice," Manisha said.
Amruda Nair, spokesperson of the foundation termed the effort as "providing a second chance to the women who want to regain their confidence and look at life with a smile all over again."The designer duo of Shivan-Narresh has designed the mastectomy blouse that has an in-built prosthetic breast and uses the special bodice blocks that give the right fit to Indian women.
"We found out that women deal with a lot of confidence issues once they are confronted with cancer. There are women who fit clothes in the blouses to get the normal shape of the breasts after mastectomy. We are sure with such blouses, they will have a healthy option now," Shivan said.
(pti)
Here's a question for you: What do you think? Are these so-called mastectomy blouses a healthy initiative for breast cancer patients? Write to us at womentalk@dw.de.