Faulty deal over Japan's wartime sex slavery?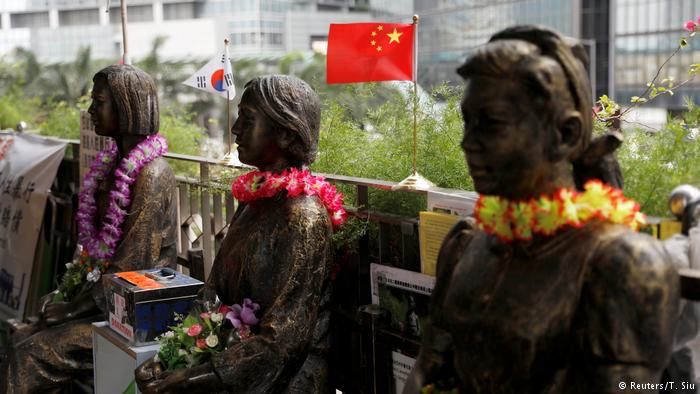 South Korea said Wednesday a 2015 deal intended to end a festering dispute with Japan over Tokyo's wartime sex slavery was faulty, reopening a historical wound as the two countries try to rein in North Korea.
Seoul and Tokyo signed the agreement to settle the hugely emotional and decades-long issue with a Japanese apology and payment of money to survivors.
Following an election pledge, the new government of President Moon Jae-In ordered a review of the unpopular deal which was struck by his now-jailed predecessor Park Geun-Hye.
On Wednesday a task force published a report saying the deal was rushed and did not adequately seek out the opinions of the women forced to work as sex slaves, often known by the euphemism "comfort women".
"The agreement was finalised … without adequately taking into account the opinions of victims in the process of negotiation," the report said.
Foreign Minister Kang Kyung-wha apologised for the deal, saying it "hurt" the victims and had "failed to reflect the victims' views".
Observers say any move by Seoul to abandon the deal could damage relations with Tokyo as the two countries face off against a nuclear-armed North Korea.
Kang said Seoul would "take into account any impact on South Korea-Japan ties as it carefully establishes its position" following the report's release.
But she stopped short of saying whether Seoul might consider calling for renegotiation or walking away from the deal.
Tokyo urged Seoul to stick with the 2015 agreement. "Japan's position remains unchanged, that we ask the South Korean government to abide by the deal," a Japanese foreign ministry official told AFP.
"Comfort Women" from all many parts of Asia
Mainstream historians say up to 200,000 women, mostly from Korea but also other parts of Asia including China, were forced to work in Japanese military brothels during World War II.
The agreement was meant to put an end to the hugely emotional issue with a Japanese apology and payment.
But survivors and their supporters call for a direct and explicit apology from the Japanese government for the wartime abuses. Japan annexed the Korean peninsula from 1910-45.
The Japanese government denies it is directly responsible for the abuses, insisting that "comfort women" were recruited by civilians and that the military brothels were commercially operated.
Despite the agreement, ties between the two neighbours remain tense over statues which South Korean activists positioned outside Japanese diplomatic missions in memory of the victims.
Source: AFP, Reuters
_____
WTO RECOMMENDS
Tokyo has withdrawn its ambassador to Seoul after a new statue in honor of "comfort women" is placed outside its Busan consulate. There are also fears that the political turmoil in Seoul would jeopardize the 2015 deal.
I never used to be a big fan of Salma Hayek – not until she played in "Frida" the biopic of the Mexican surrealist painter and feminist icon Frida Kahlo, released in 2002. That was also the year that I happened to turn 30. Having spent my twenties trying to figure myself out, 2002 marked the advent of accepting myself – warts and all. And Frida (masterfully reincarnated onscreen by Hayek) was just the model to cement my then developing devil-may-care attitude towards other people's opinions about my looks, my clothes, my outspokenness or my refusal to unquestioningly accept societal indoctrination about marriage and the role of women.
Too many times I have been told to dress "right". Often times I have been asked if I dressed a certain way to gain more "male attention" or to be more precise, to "tease men". Every day, I am reminded that if I stay out too late, I could "invite trouble". The list goes on.