Gunjan Rawat, a belly dancer from India

"Secret Superstar" was one of the most successful Bollywood movies of 2017. It tells the story of a young girl who has to cover her face in videos of her singing that she uploads to YouTube to avoid being recognized and punished by her father.
This is a story that must have struck a chord with Gunjan Rawat, a belly dancer from India. She hails from a patriarchal society, had no access to formal training for the first 23 years of her life and was constantly judged and demotivated in the pursuit of her dreams. She defied all odds and went on to become a star. This year, she has already won six international competitions, including the world-famous Rakkas Festival in Istanbul. WTO caught up with her to find out more:
You come from a small city in India. When and how were you introduced to belly dancing?
Gunjan Rawat: I started liking belly dance as a child after watching Shakira on TV. I liked it so much that I started dreaming of doing it all my life. I started performing at college parties, but I had no professional training. In 2012, I started training at an academy in Pune.
Why did you want to be a dancer? 
GR: I always felt that I could express myself so much better when I danced. I have a shy personality and dance really gives you confidence and a medium to express yourself better. It is difficult to be a woman in the culture of the small town that I come from. We were always asked to suppress our emotions and not raise our voices against any injustice or bad thing happening around us. When I dance, I enter a state of ecstasy and forget everything else around me, 'specially my fears and insecurities.
There are few formal learning options for this dance form in India. How did you teach yourself?
GR: It wasn't easy to find a teacher in India. I must have written thousands of messages and emails to so many teachers and academies but only a few responded. After a long wait, I found the academy in Pune. At first, I travelled every month to train and to improve my techniques. This started getting expensive so I moved there permanently.
I eventually joined their professional troupe, but I felt restricted in terms of scope and artistic freedom. I also came across unprofessional attitudes on the part of event organizers in India, which pushed me to search for opportunities abroad. I started traveling abroad to train with master teachers in Egypt, Turkey and different countries in Asia. All the while, I supported myself by teaching yoga classes – I am also a certified instructor.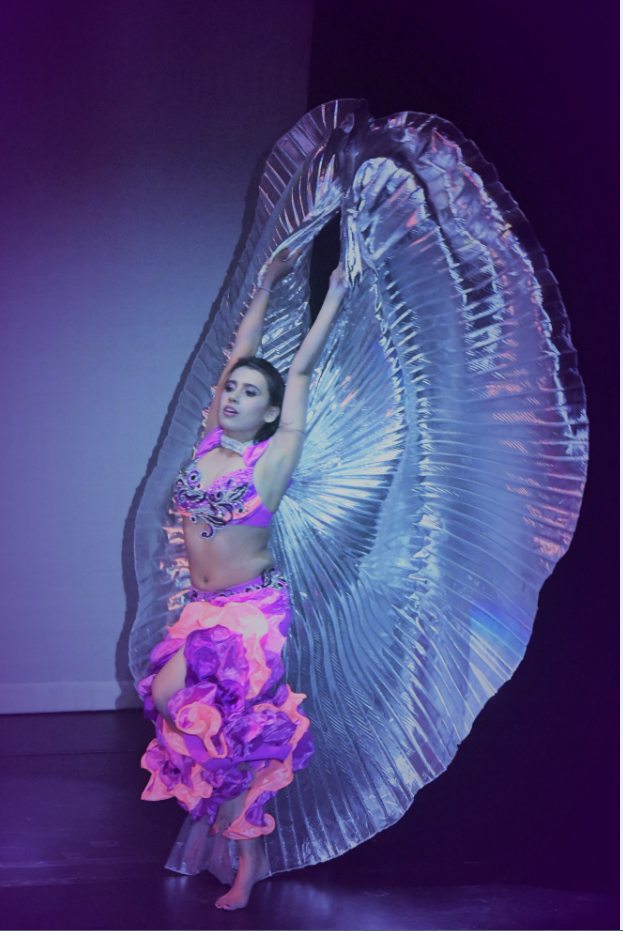 Have you received support from your family and friends?
When I told my father of my plans to teach yoga and train as a dancer, he was not happy. I come from a conservative family which provides support only when one decides to pursue well-established fields such as engineering, law or medicine. I didn't have any artists in the family who could understand my passion. I had to stay away from my family for years to be able to work really hard and prove myself. My mother was initially shocked to hear about my liking for belly dance, but after seeing my determination she chose to support me. Many of my friends supported me when I left the family home to chase my dream. But I had to break off ties with a large chunk of my social circle to stay motivated.
You also manage your social media presence. Do you face body-shaming, bullying or moral policing? How do you deal with such issues?
It is very important these days to have a strong social media presence. In the initial years of my training, when I had to hide my pursuit from my extended family I reduced my presence on internet platforms. With time, I decided to be bold and started being more active on Facebook. It gave me the chance to contact some world-famous master teachers. I have travelled to so many countries and attended a lot of professional courses – this was only possible due to social media.
I won't say that it has all been rosy though. I have faced a lot of body-shaming. Even from some teachers in India. I was told by my first troupe leader that I had to have specific body measurements if I wanted to be a part of her troupe. I have received all kinds of comments and private messages from random desperate men. It was initially very tough to handle. If you tell someone that you are a belly dancer, people get all kinds of wrong ideas and start judging you. But slowly, I started to ignore the negativity. When things get out of hand, I make it a point to teach the offenders a lesson. In my opinion, it is not a good idea to stay quiet if someone is constantly harassing you.
What has contributed to your success the most? What do you see yourself doing over the next 10 years?
I would say my passion, hard work and patience and my never-give-up attitude have contributed most to my success. I was depressed in the initial years of my struggle, as it was not easy to deal with the pressures from family and society where almost everyone was ready to judge or demotivate me. I had to be strong-headed and focused to achieve what I have now.
Over the next 10 years, I see myself performing and teaching in big prestigious bellydance festivals on every continent of the world and being recognized as an eminent dancer. I already perform as a guest artist at some famous festivals. I also intend to open my own academy in future. I really hope to contribute something tangible to this art and educate more people in India about it.
Interview: Apoorva Agrawal (act)