Women around the world: Mexico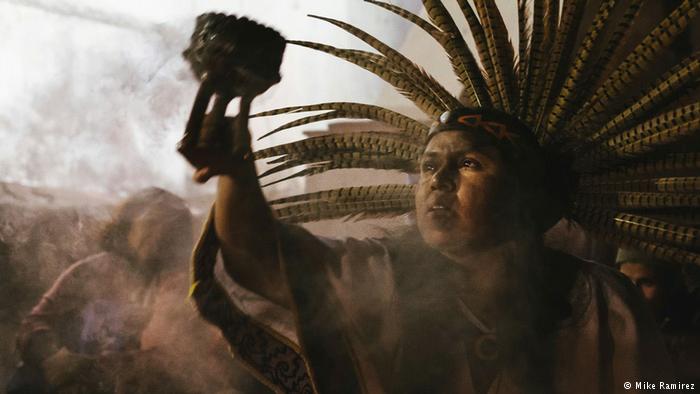 In collaboration with EyeEm, DW invited photographers to share images that offer an insight into the lives of women around the world. This one was taken in Mexico by Mike Ramirez.
DW: Where did you take the picture?
Mike Ramirez: I want to start by saying I'm Mexican, I am a man and my intention is to pay homage to women. I live in San Juan del Rio Querétaro and I took this photo in a very peculiar museum in my city called "museo de la muerte" (museo of the death) in celebration of the day of the dead (Dia de los Muertos).
Who is in the picture?
She is an unknown woman, but she deserves my respect and admiration because she seeks to preserve our ancestral traditions.
What does your image say about the culture of women in your country?
Makes me think that we are one of the few countries where we see death with a certain humor, we make jokes about it, but at the same time we respect it and fear it, we make offerings for our dead and remember them, especially on the day of the Dead (Día de los Muertos).
How important are gender issues to you personally?
I respect and admire people. We are humans with flaws, limitations and virtues, I think respect is part of living in society.
Do you think women are fairly treated in your country?
Unfortunately women are not usually valued or respected as they should be in my country. There are many femicides and my country has lost respect for life. That should stop! I think we have to open our eyes, change our thinking, find a balance and live in peace, with respect for our people.
I think men could try to change or and stop feeling like superior beings to women, and treating them like the "weaker sex". They are very capable human beings, and if they are able to give life, they can do anything. But if men do not let them stand out, and reduce them, they will not be able to see what they really are and can really do.
We must live in an inclusive society and respect women, they are the most beautiful creation in the world!
This interview has been edited and condensed for clarity.
EyeEmis a Berlin-based community of 18 million photographers from all over the world.