#MeToo, beyond the Hollywood bubble – Global Media Forum 2018
The #MeToo movement has been lauded as a catalyst for change. But what effects has it really had for women worldwide? A DW Arts.21 special brought international activists together at the Global Media Forum to find out.
#MeToo has become synonymous with the fight against sexual harassment and abuse of power by men. The hashtag hit the mainstream in October 2017, when allegations of sexual assault and rape were first made against American film producer Harvey Weinstein. Women took to social media to share their own experiences of harassment and assault.
Eight months on and Weinstein has been indicted on charges of rape. Hollywood has been shaken to the core, and the aftershock has been felt far wider than the entertainment industry.
On June 12, as part of the Global Media Forum in Bonn, Germany, DW's Arts.21  program hosted an event examining the heated debate that has sprung up in the wake of the Weinstein scandal.
Presenter Karin Helmstaedt asked the international panel, made up of women's rights activists and prominent female figures from the arts world, what effect #MeToo has had outside Hollywood.
"There is so much focus on #MeToo in the United States and in Hollywood, but you forget everything else that is happening around the world," said Urvashi Butalia, a publisher and activist who has been fighting for women's rights in India for decades.
"Everywhere in the world, women are stepping out and claiming public spaces much more than they were before," she added.
Butalia explained that in each country or society, there will be particular stories that capture the national attention and move the debate on. She referred to #MeToo as "the moment for the West."
Everyday stories
Joumana Haddad, a Lebanese author and activist, said that the coverage of the #MeToo movement has put too much focus on the celebrity angle.
"We should pay more attention to regular people speaking up," she said. "The media seeks the sensational part of any story. An actress saying this producer harassed me or raped me is way more sellable than a regular person saying that. But it happens every day to regular women."
Haddad is the founder of Jasad, an Arabic-language magazine which celebrates the female body and sexuality.
She is an outspoken critic of the cultural, political and religious constraints in the Arab world — particularly for women.
"Can you imagine that we are applauding a country just because it allowed women something as absurd as to drive a car?" she asked in reference to Saudi Arabia's planned relaxation of a law forbidding women from driving.
However, she added that as a writer she doesn't only seek to challenge her own society. "It's also about challenging the stereotypes in the West," she told the panel. "Not all Arab women are submissive or oppressed or veiled."
The veil is a contentious issue. Rokhaya Diallo, a Muslim journalist and filmmaker from France, responded to Haddad's remarks by asserting that "the veil is a mark of femininity."
"In France there is a movement to force Muslim women not to wear the hijab," she explained. "As a woman you should be free to do whatever you want with your body."
A lasting effect on Hollywood
Having spent nearly 25 years working for the Academy of Motion Picture, Arts and Sciences, panelist Ellen Harrington is well acquainted with Hollywood. "From top to bottom, people really did know about this," she said of the systematic harassment of women in the film industry. "There was a conspiracy of silence."
Harrington, who was recently appointed director of the German Film Institute, believes that the "shame" cast upon prominent figures such as Weinstein has had powerful results.
"There has been a fantastic trickle-down effect," she said, explaining that more people in the US are opening up to family and friends about personal experiences as well as getting more involved in political activism.
Harrington told the panel that she hopes to see the dawning of a "new normal" in Hollywood, whereby women will be "the architects of the stories."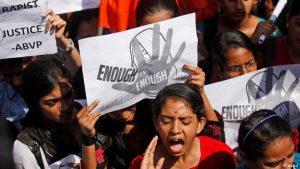 And it seems that Bollywood — once an undeniably male domain — is also changing for the better.
"Now you are getting these amazing films made by women, produced by women, starring women," said Butalia. "Young women artists in India are breaking taboos quite amazingly on issues of sexuality and religion."
Whether or not #MeToo was the catalyst, the panelists agreed that things are moving in the right direction.
"I don't know what we are on the verge of, but whatever it is, it's really important," said Butalia. "It's going to change reality in very fundamental ways. And you'd better be ready for it."
Author: Rachel Stewart