Women voters in Pakistan, more aware of their rights?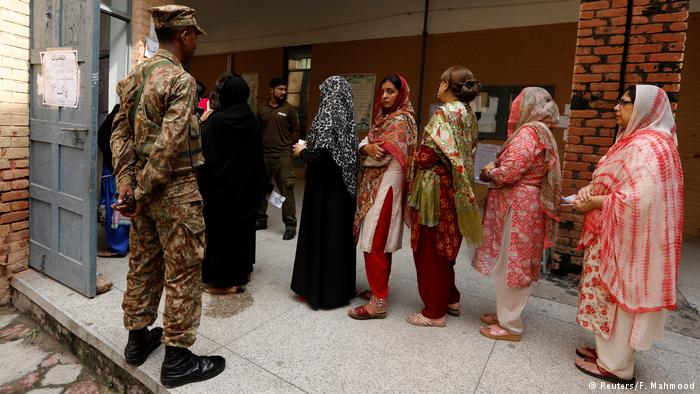 Although the recent elections in Pakistan have come under fire and there are serious allegations of rigging and poor management, many observers consider the active participation of women voters to be the best thing to come out of this national exercise.

According to data published by the Election Commission of Pakistan (ECP), there were 46.7 million registered female voters out of a total of 105.9 million voters. The overall voter turnout was almost 55 percent. The female turnout was 47 percent, so a total of 46.7 million women practiced their civil right. Many remote and conservative areas in Pakistan, where previously women had been barred from casting their vote witnessed a positive change this year. The 2017 Elections Act made a difference and pushed candidates to reach out to women for the first time: It states that the electoral result of any constituency with less than 10 percent of votes by women will  be considered null and void.
Dir in Khyber Pakhtunkhwa Province can be taken as an example. Since the 1970s, women had been prevented from voting here after the elders decided that they would not be allowed to leave their homes on Election Day. Only one woman voted in Upper Dir in 2013. This year, 37 percent of eligible female voters turned up to cast their ballot.
"The Elections Act 2017 was important," Pakistani journalist Benazir Shah told DW. It ensured that political parties fielded at least 5 percent of women in parliamentary constituencies. A significant number of women who had previously been barred from voting or disenfranchised cast their ballot." '
Farhat Javed Rabbani, a Pakistani journalist who traveled extensively to cover the election, also gives credit to female candidates for bringing women out to vote. "I spoke many women in Dir and most said that in the past no political candidate had considered their vote to be important and had therefore never engaged with them. No-one ever came to them to ask for votes."
In Upper Dir, Hamaida Shahid from Imran Khan's winning Pakistan Tehreek-e-Insaf (PTI) ran while in Lower Dir Sobia Khan from the Pakistan Muslim League N contested.
"The female candidates told me that local women felt comfortable talking to women candidates," Farhat Javed Rabbani. "They shared their problems openly, they wanted school for girls, they asked for jobs for their men."
However, there are also negative stories. On Election Day, Rabbani was in a village in Chakwal District in central Punjab and only five voters turned up to the female polling station.
In the early 1960s, the elders of three villages passed a decree that voting was un-Islamic. "We were threatened by the local men to move away from the female polling stations," Rabbani said. "They told us that their women would not come out and vote."
There are currently four constituencies which had less than 10 percent votes from women. The results will be considered null and void by the ECP and there will be a re-election.
The new Elections Act compels all political parties to give 5 percent of the party tickets to women to run on general seats, but not all parties complied in a manner that was helpful. "Most women were fielded in constituencies where they faced long odds. Or they were incumbants or seen as powerless replacements for male relatives," said Benazir Shah. "The exceptions are Dr. Yasmin Rashid and Zartaj Gul who both conducted formidable campaigns against powerful opponents."
Zartaj Gul, a young woman from the Federally Administered Tribal Areas of Pakistan (FATA) contested the election on a PTI ticket. She ran for one of the toughest seats of South Punjab Dera Ghazi Khan (DG Khan), and was able to Awais Leghari from Pakistan Muslim League N with a margin of 27,000 votes. "I decided not to go for a reserve seat," she told DW. "I only wanted to contest on a general seat. I was confident that I could win. I also wanted to prove that women are capable of running an election campaign, that they have leadership qualities and the charisma to attract voters."
Gul was the first female candidate from Waziristan and DG Khan to win a general seat. "I always think that I have more potential than men," she said, explaining that she refused to be part of a women's quota and ran a successful independent campaign. To have won in an area with a strict feudal culture where women have to observe purdah was encouraging. She said that she wanted to work for women in the area.
Another inspiring story is that of a Thari woman, Sunita Parmar, who is  from Tharparkar, one of the most neglected and water-deprived areas of Sindh province. It has largely been ruled by feudal lords and it was years of oppression that inspired Parmar to stand for election. She was the first Hindu woman to contest an election in the area.  Tharparkar is home to a small Hindu minority, which has been marginalized. Women are particularly vulnerable. Parmar ran an impressive campaign with her ten-month-old baby in tow. She attracted attention in the local, national and international media "During my campaign, I received a lot of respect from many people and women encouraged me a lot," She told DW. Though she did not win, she is a new person she says, and she'll continue working for the community.
Other notable female candidates were Begam Ali Wazir, who also contested from the conservative tribal area of Pakistan, and Jungnu Mohsin, a candidate from Central Punjab.
Nighat Dad, CEO of Digital Rights Foundation, followed the media coverage given to female candidates very closely. "Gender was not a topic of discussion for candidates and parties in both online and offline spaces," she told DW. "Even when discussing their agenda and manifestos, we were hard-pressed to find a single mention of gender from official the social media accounts of major parties."
Generally, Benazir Shah is not very optimistic. "Only eight women were elected on general contestable seats. That is one less than in 2013. Close to 2 percent of parliament will be made up of women, and if you add the reserved seats the tally will go up to 20 percent. Now compare that to the latest population census, according to which a little less than half of the population is female.The glass ceiling is still very much intact. "
Author: Beenish Javed (act)
Twitter: @beenishjaved