Lights, camera, action for Asian film festival organizers in Berlin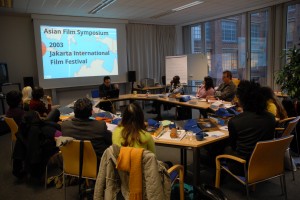 The last several weeks have been action-packed for the participants of the film festival and event management workshop taking place in Berlin. For the 9th year in a row, DW Akademie has conducted this special training event in cooperation with the annual Berlin International Film Festival, also known as the Berlinale. The workshop is for managers and organizers of film festivals in Asia, Africa and Latin America.
Every year it's a red-carpet intensive to discuss festival planning and marketing strategies, boost the genre of local film-making in developing regions and network in the name of cinematic impact. "The workshop is a great gathering of 12 different cultures from three different continents," says project manager Pamela Schobess. "It's all about networking and we've had an amazing start, making contacts between festivals all over the world."
Of this year's group, five are from Asia. Pictured above from left to right are Shoaib Iqbal, the director of Pakistan's Lahore International Children's Film Festival, Le Thi Thu Ha, an international relations expert for the Vietnam International Film Festival and Andrew Linggar, director of dissemination for Minikino in Indonesia. Hamed Kibria (pictured bottom row left) is the public relations secretary for the Dhaka International Film Festival (DIFF) in Bangladesh and to his right is Anuja Arvind Ghosalkar, the festival coordinator of India's Experimenta film festival.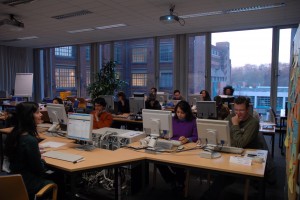 Over the course of five weeks, they've been getting behind-the-scenes access and a rare close-up look at one of Germany's foremost international and cultural media events. But their stay in Germany is not all glamor and glitz. Their days are long and full of hard work. The rigorous schedule includes attending the official Berlinale press conference, completing understudy and group activities alongside other festival specialists and holding in-depth discussions with experts.
"While the Berlinale takes place," Pamela adds, "we have the opportunity to meet lots of people who work for the festival, such as the heads of the sections and people from various administrative and organizational departments. It's great that these people take the time to introduce themselves, their fields of work and answer the participants' many questions."
Besides honing their own communication and presentation skills, the workshop introduces the participants to tools and methods to effectively improve the profiles of the events they work for back home. Shoaib Iqbal of Pakistan says that one of the first things he plans to do after this experience is to "train not only our staff members with the core components of the course, but also to invite people from other arts and film organizations so they can benefit as well. In light of the such rich experience here, the key areas that I identified in our festival to grow are programming, strategic partnerships and audience development."
Sales and distribution, securing funding and film selection criteria are just some of the areas they've been focusing on to help extend the reach of film festivals in Asia and expand their pool of sponsors, filmmakers and audiences. Le Thi Tu Ha says the experience will help her festival in Vietnam in a range of ways – from the daily business of managing the immense amount of paperwork through to supporting young filmmakers and developing film promotion and co-production partnerships.
That's not the last of the Berlinale buzz either. DW Akademie was also closely involved with the special film award CINEMA fairbindet (CINEMA connects), which honors a film for outstanding contribution to the progress of development issues. One of the nominations this year was Filipino independent film Ang Babae Sa Septic Tank (The Woman in the Septic Tank). And DW Akademie trainees busily reported from the Berlinale Talent Campus, a creative academy for next-generation filmmakers, featuring illustrious international guest speakers such as award-winning Taiwanese film director Hou Hsiao-Hsien.
Many of the workshop participants cited the Talent Campus and European Film Market trade fair as particular highlights among the myriad of Berlinale-related events. The variety, says Andrew Linggar of Indonesia, "builds a really good 'ecosystem' where new talents learn, produced films are distributed and the audience has the chance to enjoy the films."
The whirlwind Berlinale ends on February 19th, but the workshop participants will continue their work for a full week after, reviewing the flurry of film festival and workshop activities, presenting individual reports, and holding wrap-up meetings before heading home packed with new ideas and international contacts for their film festivals in Asia. Shoaib calls it "a creative and inspirational overdose of film." In combination with the workshop he says that the "potential of this experience will unleash truly if you connect the dots that were gathered during the event."