Myanmar: Heading towards freer media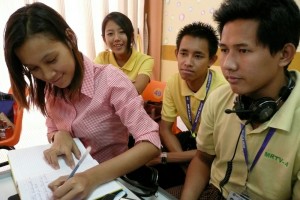 After decades of censorship, Myanmar is aiming to democratize its media system. In cooperation with UNESCO, the government recently arranged an international media conference. DW Akademie was there.
"I would like to see you all again – in a country with a free and democratic media," said Ye Htut, Director General of Myanmar's Ministry of Information, as he said goodbye to the 250 participants attending the media conference in Rangoon.
Until recently, a statement like that would have been unthinkable. "I'm experiencing Myanmar as very open in an impressive way. The atmosphere in this remarkable conference is honest and very sincere," reports Helmut Osang, DW Akademie's coordinator for media development.
The government is openly communicating with DW Akademie and other international media organizations and pointing to a new direction. "They are serious about political reforms – especially as they relate to freedom of the press and information," says Osang.
Three years ago, Ye Htut indicated there would be reforms. At the Asian Media Summit in Macau in 2009 he told DW Akademie Director, Gerda Meuer, and Helmut Osang to "become active in our country, and be prepared for big changes. In a few years time everything will be different."
DW Akademie focuses on long-term cooperation
These changes could be clearly felt during the "Conference on Media Development in Myanmar" held at the end of March, 2012.
The government, together with UNESCO, had invited 250 delegates to Rangoon, among them journalists and media representatives from Myanmar and neighboring countries including Thailand, Indonesia, the Philippines, Sri Lanka, as well as representatives from international organizations active in the field of media support.
Also invited were the recently licensed opposition media. They were previously only able to report about Myanmar from abroad.
The conference's Final Document set down goals and tasks for the transition to a free, democratic and pluralistic media sector: developing new press and broadcasting laws; abolishing all types of censorship; creating transparent and fair market conditions; enabling public access to information, including for those living in remote areas; transforming state broadcasters to public institutions; and establishing organizations for media self-regulation and all types of media training.
DW Akademie holds journalism workshops in Myanmar
DW Akademie has been in close contact with media representatives in Myanmar since 2009, and for this year has organized several workshops in cooperation with the Asia-Pacific Institute for Broadcasting Development (AIBD) and the Friedrich Ebert Foundation (FES).
Three workshops have already taken place: two on TV production and one on training media producers to be trainers.
DW Akademie's local long-term partners are the Myanmar Media Development Centre (MMDC) and the first, semi-commercial station, MRTV 4.
It was decided at the conference that DW Akademie will coordinate future international support for the basic and advanced training of media professionals, and for the establishment of vocational institutes. This will all be part of a sweeping plan for media development in the country.
Tags
AIBD
,
birma
,
burma
,
censorship
,
Conference on Media Development in Myanmar
,
fes
,
MMDC
,
mrtv4
,
myanmar
,
opposition
,
unesco
,
Ye Htut