Search Results for Tag: censorship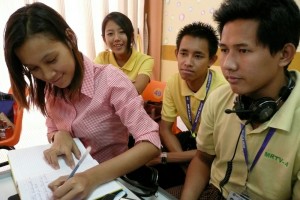 After decades of censorship, Myanmar is aiming to democratize its media system. In cooperation with UNESCO, the government recently arranged an international media conference. DW Akademie was there.
"I would like to see you all again – in a country with a free and democratic media," said Ye Htut, Director General of Myanmar's Ministry of Information, as he said goodbye to the 250 participants attending the media conference in Rangoon.
Until recently, a statement like that would have been unthinkable. "I'm experiencing Myanmar as very open in an impressive way. The atmosphere in this remarkable conference is honest and very sincere," reports Helmut Osang, DW Akademie's coordinator for media development.

read more
Tags
AIBD
,
birma
,
burma
,
censorship
,
Conference on Media Development in Myanmar
,
fes
,
MMDC
,
mrtv4
,
myanmar
,
opposition
,
unesco
,
Ye Htut