When the samba is silent in Brazil
Global Ideas reporter Militiades Arsenopoulas came upon a few unusual scenes while filming in carnival-crazy Brazil.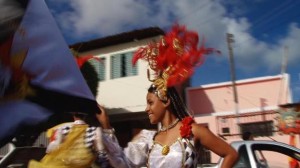 Imagine you're traveling to the carnival hot spot of Brazil and the festivities are canceled! That's exactly what happened to me in Maceio, a seaside city in northeastern Brazil. No kidding! A few days before Shrove Monday, the mayor announced that there was no money for the carnival parade. The city was simply broke. It was a historic first and came as a rude shock to the city's one million residents. Maceio is famous for its traditional carnival festivities that I so wanted to be a part of.
Other towns in the region also canceled their carnival parades due to the cash crunch, leading to a few strange scenes. For instance in Capela, a small town an hour's drive from Maceio, a Volkswagen bus with huge loudspeakers on the roof drove slowly through the center broadcasting the mayor's apology. I felt sorry for the Brazilians in that moment. But there was nothing they could do to save their carnival, the consummate Brazilian holiday and considered the best time of the year to visit the country.
In Maceio, I also met members of a local Samba school who simply blocked off a street (without the permission of the police) and started their own carnival party. Dancers in tiny bikinis and colorful costumes swayed to the Samba music played by young and old people on drums. The spontaneous street party was a vibrant and colorful spectacle. And that's when I thought I understood what the Brazilian carnival is all about. It's a celebration of the pure joy of living. I was so thrilled to experience the unique party. And I really hope people in Maceio get back their carnival parade next year.