Search Results for Tag: chocolate
Chocolate No More?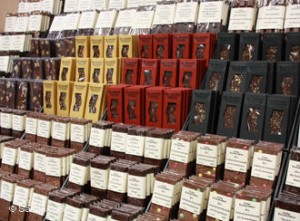 The International Center for Tropical Agriculture just released a report that shows that the cocoa supply in West Africa is under threat. As our climate gets warmer and warmer, the soil heats up, and the normal patterns of rainfall are also changing quickly. Why is that important? Because Ghana and Côte d'Ivoire are home to half of the world's cocoa supply.
According to the International Center for Tropical Agriculture, which is based in Cali, Colombia, by the year 2050 the amount of land that's now used for cocoa production will be drastically reduced, and instead moved to different plots of land that don't offer suitable growing conditions. And since the demand for chocolate is on the rise but production is falling, we'll probably end up paying a lot more for the sweet treat.
The study's authors recommend finding cocoa plant varieties that are heat-resistant and can adapt to changing climate conditions.