Search Results for Tag: corruption
Mafia launders dirty money in clean energy
We recently reported on corruption in the climate change industry. Now, a new report by the European Union's police authority, Europol, says the Italian mafia is increasingly zooming in on clean energy projects such as wind farms in Italy as a way of laundering their illegal money.
The report say that green schemes in Italy "offer attractive opportunities to benefit from generous EU grant and tax subsidies."
Though Italy is struggling with recession and unemployment, the renewables industry in the country is booming. Reports suggest the Italian government, helped by EU funds to promote clean energy, has provided more than $75 billion to producers of wind and solar energy over the past six years, leading to surging revenues.
That boom, the Europol report says, as well as the legal business structures that the renewable projects offer make the industry attractive to the mafia.
"The Italian mafia is investing more and more in renewable energy, especially in wind farms, to profit from generous European grants paid for by member states which allow them to mix dirty money with legitimate economic activities," the report said.
In April this year, Italy made its biggest confiscation of mafia assets in history, including dozens of alternative energy companies worth a total of over $1.6 billion, according to news agency Reuters.
The owner Vito Nicastri, a 57-year-old businessman , once dubbed the "Lord of the Wind" because of his vast wind farm holdings, invested money made from extortion, drug sales, and other illicit activities for a heavyweight in Sicily's Cosa Nostra crime group.
A phone call against climate corruption
Fighting climate change has spawned a massive industry with vast sums of money sloshing around relatively new and untested channels. That has opened the door to bribery and corruption.  Our reporter Franziska Badenschier has more.
Transparency International's anti-corruption hotline in its Kenya office recently received a disturbing call. The caller claimed that someone was planning to build a private crematorium on a piece of public land on the coast and clear mangroves in the area. Judy Ndichu and her colleagues at the "Advocacy and Legal Advisory Center" at Transparency International in Nairobi were alarmed.
"For one, mangrove forests are a fragile ecosystem and on the other hand, they form a barrier to protect the mainland since most coastal areas in Kenya are threatened by rising sea levels. In addition, this is a protected forest area," Judy Ndichu said. She was speaking at a recent event organized by the Forum for International Cooperation for Sustainable Development (f.ize) in Berlin.
The call prompted Ndichu and her colleagues to dig deeper into the issue. "We found that a million Kenyan shillings (around 8,800 Euros) had changed hands in the form of bribes so that the case wouldn't get out in the public sphere," Ndichu, who works for the "Climate Finance Integrity Program" at Transparency International, said. Ndichu's team handed over the case to the National Environment Management Authority and Kenya's Ethics and Anti-corruption Commission. "Finally, the project was stripped of its license," Ndichu said. It may sound like a small victory against corruption in the environment and climate sector. But for Judy Ndichu, that's better than not reporting it at all.
The case is by no means an exception in the booming sector that has emerged to fight climate change. The issue was the focus of the "Global Corruption Report  in 2011. "The efforts to rein in climate change and react to it will come with a huge price tag," the report said. When huge sums of money flow through new and untested financial markets and mechanisms, there is always a risk of corruption, it said. Estimates suggest that $700 billion will be invested by 2020 in measures to reduce greenhouse gas emissions and slow the pace of climate change. And each year, at least $250 billion in public funds will flow through channels that are "new, relatively uncoordinated and untested," the report said, adding the situation was certainly vulnerable to bribery and corruption.
That's why the African Central Bank, the United Nations Environment Program, the World Bank and other international institutes have long grappled with the best way to spur honest people to report about corruption and abuse in the fight against climate change. "In Kenya, for instance, these multilateral institutions have set up their own complaint cells," a member of Transparency International in Berlin said.
But that could lead to problems too. A potential whistleblower in Kenya could be forgiven for being confused about which office to approach with a complaint. Besides, how do you ensure that the whistleblower is protected so that he's not hounded later by those he exposes? Transparency International's answer to that is setting up a central hotline.
"The anti-corruption helpline. Call 0800-720-721 or text 3129 for FREE assistance on CORRUPTION-related cases." That's what it says on stickers plastered, for instance, on taxis in Kenya. Since the end of last year, Kenyans can anonymously call the number to complain about corruption and bribery in any sector whether climate, health or education.
So what's the watchdog's verdict six months on? "We get an average of 64 calls each month and around five of those relate to climate issues," July Ndichu said. The land grabbing case on the coast was one of them. Judy Ndichu hopes the hotline will prompt further calls and shed light on shady deals and corruption in the country.
Corruption and Climate Change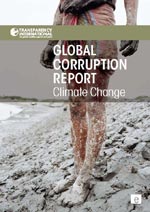 We've got another study to share with you, but this time it's a new report from Transparency International. The watchdog organization released its 'Global Corruption: Climate Change' report on Saturday and they had an important message: don't let corruption get in the way of addressing climate change.
According to Transparency International, several countries need better oversight when it comes to climate projects to make sure funds are used the right way. And that's especially important now because experts say we're likely to see $700 billion devoted to climate change investment by the year 2020. The report also showed that the carbon trading markets and forestry industry are especially prone to corruption.
Tell us a little more about your country–do you think climate change funds are being used appropriately?