Search Results for Tag: green
Green Call: Angella Katatumba wants to stir up the youth
Angella Katatumba is the International climate change icon in Uganda, appointed by the British Council. The idea of the song and the appointment of course is to make climate change an exciting topic to the young people.
Here's a short interview with Angella featured at the Pied Magazine, an african eco online mag.
More detailed informations are available at musicuganda.com, a pretty interesting website that claims to be Ugandas leading music and entertainment website.
Eco-friendly CES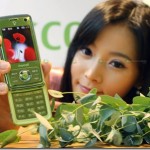 The Consumer Electronics Show has kicked off today in Las Vegas. It's one of the biggest trade-shows in the world and a major trend-setter in the electronics world. Plus, organizers say it's the greenest trade-show in the world.
CES has a list of its environmentally-friendly features, which include green products and new alternative energy technologies. The organizers also say 68% of all the waste from last year's show was recycled, and even the wall paper, carpets and toiletpaper used in this year's convention are made from recycled materials. They also took batteries and light bulbs from landfills.
Maybe the coolest green display at CES is the Electric Vehicle TechZone, which boasts 3,500 square feet of high and low speed electric autos. Carmakers like Audio, Toyota and Ford will show off the latest green technology in the auto industry, which should be an interesting display. You can follow along at http://cesweb.org/.