Search Results for Tag: kabylia
Climate Champ – Act now or never!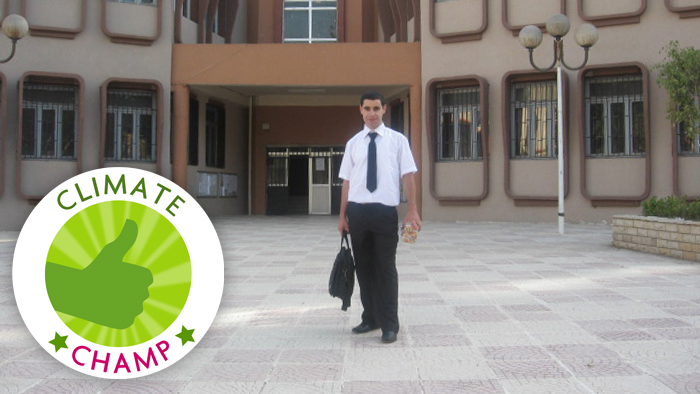 Do you feel responsible for our future? Are you tired of waiting for a breakthrough at climate conferences? If you are already taking action yourself, you are our ClimateChamp and we want to get to know you! Answer our questionnaire to become a part of our new blog series, take your chance to be nominated as a Climate Champ.
What is your name? How old are you? And where do you live?
My name is Kaddouche Mourad, born on the 23rd of October 1986 in Algeria. Right now I live in Tizi Ouzou (Kabylia) and I study at the University of Béjaïa.
How does climate change affect your everyday life / your community?
Droughts are harmful for agriculture and that threatens our food security. A lot of water is needed to irrigate fields, and that takes away from the supply of drinking water!
What trigger event led you to start fighting climate change?
The trigger event was snow that measured four feet (1.2192 meters) high here in Algeria. That happened twice in Algeria, in 2005 and 2012. Both times it lasted more than 15 days. There were many problems for people especially in getting food and health care because neither the local authorities nor the government were able to solve the problems. On the other hand in the summer, temperatures rise to more than 45 degrees Celsius (113 degrees Fahrenheit) – that  sometimes leads to forest fires.
How exactly do you fight climate change?
As a doctoral candidate in biology – to be precise in biology, health and environment – I hope that my thesis will help to solve some questions. My thesis is about olive tree fields as an agro-ecosystem. The topic corresponds to sustainable development because the olive tree ecosystem includes social, economic and ecological values in Kabylia. The olive tree agro-ecosystem helps  people to earn more money without using fertilizers, pesticides or herbicides. Some of these ecosystems are still wild and here biodiversity is preserved. I study the different disruptions that occur by monitoring it with GIS (geographic information systems) and by mapping . With the results, I try to get a better understanding of the reality to take practical decisions to help both local inhabitants and decisionmakers improve food safety and the environment. The topic is still in development so of course many points still need to be discussed.
What do you say to climate change skeptics?
Harmful effects are on the way if we don't act now!
Worst case scenario: What do you think your city will look like 10 years from now if no action is taken to fight climate change?
We will see more smog and fewer green spaces.
Best case scenario: What do you think your city will look like 10 years from now if further action is taken to fight climate change?
There will be fresh air, clear water and still green areas.
Short and simple: What do you demand from your government as far as climate change is concerned?
Act now or never!