Search Results for Tag: Peter Altmaier
Minister receives green bracelet
Author: Kerstin Schnatz
Ahmed's big eyes are beaming with pride. The young Egyptian is standing on the stage of the German Pavillon in Rio de Janeiro. The 16 year old pupil has started a recycling project at Kairo's German school which he is presenting to an international audience today at the Rio+20 conference.
"Be the change you want to see in the world"
While politicians are negotiating the final document of the United Nations Conference on Sustainable Development just across the street, Ahmed wants to take action: "In Egypt no one separates their rubbish. Plastic, paper, food waste – everything goes into one bin."
Triggered by the German initiative Youthinkgreen, the couragious teenager and his classmates set up a plastic recycling scheme at their school. The green initiative is supported by chancelor Angela Merkel and has reached over 200 young people in over ten countries so far. Some of them have come to the Rio+20 summit to present their local projects.
Change does not come easily
"A recycling company to pick up the plastic waste was found very easily." Ahmed reflects on his own initiative back home. "But after a few weeks, the garbage man told me that he would stop picking up our bin. It was flooding over with a variety of food scraps, paper and aluminium cans." To get everyone at school to separate their rubbish correctly, a rota was set up. When asked how he made his classmates do the smelly job, Ahmed laughs: "At the beginning no one wanted to bring down the odd rubbish bin. Now you get a bag of sweets, so my friends sometimes even fight over it."
Handshake with a Minister
After the presentation, Ahmed even gets a chance to meet the German Environment Minister Peter Altmaier. Together with his friends from the Youthinkgreen crew, the young man has managed to sneak into Hall 4 – a restricted area and normally reserved for state and United Nations delegates only. But Ahmed keeps his cool and steps up right next to Altmaier: "We have come to bind a green bracelet to your wrist!" Ahmed and his friends hope that through this little gesture the politician will be reminded of young people's longing for a greener future.
Altmaier who just turned 54 two days before, laughs heartily and stresses how important it is that young people take action. The Minister takes his time, listens patiently to everything the youngsters tell him. "Please visit Egypt and help us to put up more solar panels." Before the journalists can push in to fire their questions at the Minister, Ahmed has grabbed the opportunity to speak up again. Altmaier says that he wishes all the best for Egypt but that he unfortunately can not be in every country at the same time but will remember this meeting. Then he turns around to talk into the television cameras.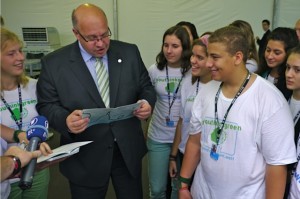 At the Rio+20 congress, teenagers from Youthinkgreen handed over green bracelets and a position paper to politicians and scientists from around the world.