Stuck in Sand!
Hey everybody,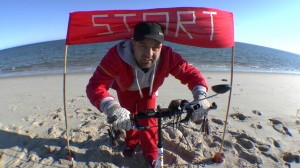 I started the scooter challenge at the northernmost tip of Germany some days ago. Unfortunately I began at a large beach area, so for the first hour of this challenge I was more or less busy with unsuccessful attempts to push my scooter through the deep sand. How am I going to manage 2473 kilometers in just 80 days after a start like that?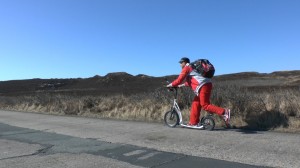 I am not really sure, but the following hours riding across the 99 km² island of Sylt were beautiful. The sun was shining, and I covered 15 kilometers an hour. I passed by the luxury houses in the rich-and-famous town of Kampen. Property there runs up to 35 000 Euro per square meter – way too much for me.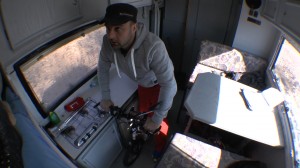 After 24 kilometers I finally reached the train to the mainland. Here I had the idea of sticking by the rules of always riding the scooter when travelling. So I put several books underneath the scooter and a roller skate on my foot and rode it without moving.
Anyway day two along the coast of the North Sea was beautiful as well, but I caught a cold, so after 19 kilometers I had to stop. I then discovered a small island at the horizon. People here call it "Groede", and it's supposedly the smallest village in Germany. Let's see and find out more!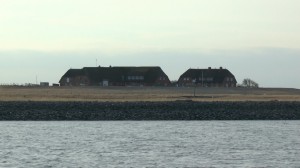 Yours Wigge