The Great Final!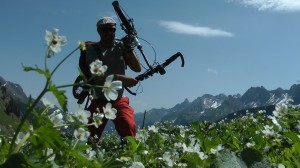 Hey everyone,
I have reached the south of Germany and finally I had to climb Germany's southernmost tip, the Haldenwanger Eck. This mountain in the Alps has an altitude of almost 2000 meters.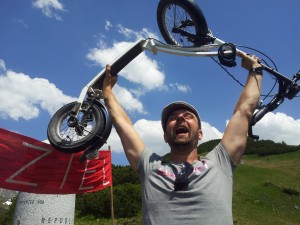 Climbing this mountain with a scooter on your back is a real torture, but after several hours I have made it! It was great to have reached my final destination after 2505 kilometers of scooting.
Believe, although the tour was amazing, NO MORE SCOOTER for me!
Besides all the ups and downs on this tour, I have explored Germany with most of its cultural aspects.
I just remember the leaning tower in Thüringen which actually leans steeper than the leaning tower of Pisa. I also remember the rainy and cold town called "Brasilien – Brasil". And I remember many encounters with extraordinary people like the lady in Seligenstadt who collects 130,000 pieces of sugar.
Yes, Germany is really diverse and I love it.
Now the final question: Have I actually made it to Germany's southernmost tip within my time frame of 80 days?  Actually I can't tell you now unfortunately but can you see it as a TV program and read many details in the book .
From August 4th Deutsche Welle Euromaxx will broadcast all 30 episodes  worldwide each day of the month besides Saturdays. And you can watch all episodes on www.dw.com/scooter. You can see it afterwards in Germany on Einsfestival or read the book in October.
Thanks for following and keep in touch
MICHAEL WIGGE (sleeping)