Fairness Creams Gain Popularity in South Asia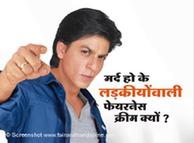 Mirror, mirror on the wall, am I the fairest of them all? This is a question that seems to bother many people in South Asia. Advertisements for skin lightening products are not helping: "Want a better job? Want to find a decent husband? Want to make your parents happy and proud? Then use a fairness cream", is what they profess. Whereas many white women go out of their way to get a tan, many South Asian women think they would appear more attractive and confident if they were two shades lighter.
When Simi Singh was growing up, her mother would forbid her from going outdoors. She was not trying to keep her daughter out of trouble; she was trying to keep her skin from getting dark, says Simi Singh, who often disobeyed the order.
Now, the 25 year old software consultant regrets that her dark skin is not lighter. But she believes there is a solution — fairness creams that she recently started using.
"I am at a marriageable age," she says, "and I need to look pretty. In our Indian context, only women who are fair are pretty. I am a little dissatisfied with the skin tone I have right now. I get more compliments and more desired looks by people if I look fairer. There is a certain level of confidence in me."
Advertising plugs fairness
Simi Singh is not the only South Asian woman to have an inferiority complex because of her complexion. There are many others like her. This is partly due to the increasing number of advertisements on television, in magazines and on huge roadside hoardings.
They are often variations on the same scene: a dashing beauty with flawless white skin claims that her goddess-like attractiveness is the result of the skin-lightening cream in her hand.
New brands of skin-lightening soaps, lotions, creams and talcum powder cram store shelves in rural and urban areas.
The tagline of "fair and beautiful" has even become a staple ingredient of matrimonial columns in Indian newspapers.
Dates back to colonialism
But Meera Kanishk, a market researcher, explains that there are historical reasons for women wanting to be fairer: "In India, the connotation of fair skin comes from the British. White skin has a colonial connotation of power and superiority and is considered equal to attractiveness."
"Throughout Asia dark skin is identified with the toil and sweat of hard labour in the fields, whereas fair skin is associated with an upscale life. It all started as a matter of social hierarchy. Culturally now, people believe fair skin is associated with positive values that relate to class, lifestyle and beauty."
"This is also true of men," adds Kanishk. "Cosmetic companies are now beginning to cater to them too, as well as to women."
Side-effects do not deter everybody
Whatever their reason for using creams, not everybody is happy with the results. Some customers have complained about the side-effects. Sweeny Virdi, a homemaker, says that her skin was ruined when she used a cream after being seduced by the TV adverts.
"In 10 days, I had patches on my skin. No way! I would not use it and would not recommend that anyone use such fairness products."
But Virdi seems to be an exception as the fairness creams gain in popularity. Whatever the reasons behind this fairness obsession — a quest for personal beauty or the reflection of deeper social problems — it is not likely to die soon.
Author: Jaisu Bhullar
Editor: Anne Thomas