Rape victims or war heroes: war women in Bangladesh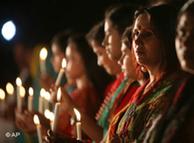 Hundreds of thousands of women were raped during the Bangladesh Liberation War in 1971. As the country celebrates 40 years of independence, these victims of war, known as Birangonas, continue to suffer.
In Bengali, the word Birangona means "brave woman." The Bangladeshi government gave this title to women who were raped by the Pakistani army in the nine months of the Liberation War of 1971. But the title has come to mean "dishonored" or "violated woman" and is synonymous with rape, abortion, suicide and war. According to Bangladeshi freedom fighters, the Pakistani army raped over 200,000 women during the war. Many of them migrated to India to give birth, while many committed suicide after being rejected by their families.
Aleya Begum often breaks down when she tells the story of how she was kidnapped at the age of 13 along with her sister Laily. She was repeatedly gang raped for seven months by the Khans, as the Pakistani Army was called.
"The Khans tied our hands, burned our faces and bodies with cigarettes. There were thousands of women like me. They gang raped us many times a day. My body was swollen, I could barely move. They still did not leave us alone. They never fed us rice, just gave us dry bread once a day and sometimes a few vegetables. Even the Biharis, who supported the Pakistani army, tortured us. We tried to escape but always failed. When the girls were of little use they killed them."
Brave girls are 'bad girls'
Begum was also shot but she was rescued by the freedom fighters, known as Muktiyudhas. She returned home five months pregnant. But the baby died after birth. "I was branded as a bad girl. They called us names. I could not stand the humiliation and insults of the villagers. I moved to Dhaka. I worked there as a maid and did odd jobs."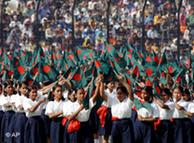 When Begum got married she did not share her story with her husband. Even now, she is afraid people will make fun of her past. She says her husband abused her and threw her out of the house when he found out about her past. Then, she says, "my daughter fought with him and he finally relented. He asked me never to discuss this with anyone." She is angry that the government has done nothing for the Birangona's rehabilitation. "We did not get any compensation. There is too much pain in my heart. What is the value of my life? What did I get out of this life? People always look down upon us. So why bother telling anyone?"
A forgotten story
Her sister Laily Begum was pregnant when the Pakistani Army kidnapped her. She lost the baby in captivity and later fought with the freedom fighters. But she says her contribution still remains unacknowledged.
"We lost everything, our reputation, children, husbands, homes, we did not want them to get away with it. There was hatred in our hearts, we were determined to kill the Khans and save the country. We fought with the Himayat Bahini. But nobody remembers us. Where is our name in history? Which list? Nobody wants to thank us. Instead we got humiliation, insults, hatred, and ostracism."
Aleya Begum's 15-year-old daughter Asma Akter Eka says society may be ashamed but she is very proud of her mother and aunt. She has composed a song about how no one sees the pain in the heart of the daughter of a Birangona. Very few women have come forward with their stories. If anything, the Birangonas have only received sympathy and pity. But they want society to recognize them as war veterans and honor them like war heroes.
Author: Bijoyeta Das
Editor: Sarah Berning