Pakistani civil society demands justice for victims of acid attacks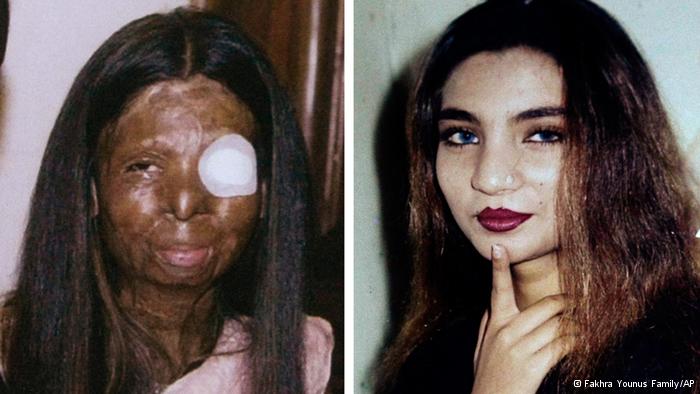 While civil society in Pakistan demands stricter punishment for the perpetrators of acid attacks, hundreds of women continue to fall victim to the heinous crime of vitriolage.
The Pakistani Senate recently passed the Acid Control and Acid Crime Prevention Bill of 2011, which stipulates a maximum prison term of life and fines perpetrators up to Rs1 million (around 11,000 US dollars or 8,000 euros).
However, civil society and rights activists are still doubtful about the implementation of the bill, more so after the infamous Fakhra Younus case.
Younus, the third wife of former politician and an influential landowner Bilal Khar, decided to end her life by jumping from the sixth floor of her apartment building in Rome on March 17, after 12 years of a lonely and painful life.
She moved to Rome after being attacked by her husband – who still lives free – in the year 2000.
Younus left behind her son, aged 17, a memoir and a suicide note.
In her book Il Volto Cancellato (roughly meaning the ruined face), she mentioned she had been receiving 760 euros from the Italian government per month and would continue to do so as a "civil invalid person."
But for her, all her reconstruction surgeries (nearly 30 in total), her monthly allowance and an apartment from the Italian government were not enough to keep her going. She needed something more to sooth her emotional and physical scars. She needed justice.
Khar's acquittal
It was a May afternoon in the year 2000 when Fakhra Younus, a former dancer in the red light area on Napier Road in Karachi, was doused in acid by Khar. Her face and breasts literally melted to the bones, her skin was charred and she was blinded in one eye.
Younus wrote in her book that she had been awoken from her sleep and forced to drink something. When she resisted, he held her by the hair and emptied the bottle onto her face. He fled immediately. She could feel her clothes melting into her burning body and she collapsed screaming.
Younus' family filed a case against her husband, but he was acquitted by a court in 2003 after the key witnesses – among whom were family members – backed out due to death threats.
A helping hand
Tehmina Durrani, Bilal Khar's step mother and an author and activist, had already revealed to the world "the Khars' way of treating women" in her book, My Feudal Lord, where she wrote about extensive abuse from her ex-husband – Khar's father, Ghulam Mustafa Khar.
"They called him The Lion of the Punjab," Durrani wrote in her book, adding, "In their village, the Khars were the Law."
Feeling sorry for Younus, Durrani finally intervened and took her and son in in December 2000 and subsequently organized their trip to Italy in 2001.
"She had started avoiding looking at mirrors. But she was a strong woman, or else she wouldn't have survived through these years," Durrani told DW.
In Italy, the Milan-based Sant'Angelica cosmetics firm offered to bear the cost of Younus' reconstruction surgeries. That is when Younus and her son moved to a suburb of Rome. They both learned to speak Italian and made a few friends. The urge to return to Pakistan, however, remained.
Younus' memoir was written in Italian with Elena Doni in 2005. It was translated into French, "La Visage Efface," and also into German, "Das ausgelöschte Gesicht" the following year.
International exposure
Sharmin Obaid-Chinnoy, the first Pakistani filmmaker to win an Oscar for her short documentary on acid victims less than a month before Younus' suicide, told DW, "We need to change the mindset of the people to get rid of this menace. In most cases the attackers are husbands or very close male family members."
Younus' suicide caused an uproar, with protesters demanding Khar's case be reopened.
Khar, however, continues to deny the allegations, claiming the perpetrator had been a pimp with whom she had been having an affair.
Talking to DW, Khar said, "She did not commit suicide because of me. She killed herself because her family had abandoned her in a strange land as she could not earn for them anymore."
A lot more to be done
According to Pakistan's Aurat Foundation, a women's rights organization, more than 8,500 acts of violence against women, including sexual assault, acid attacks, honor killings and forced marriages, were reported in Pakistan in 2011. This is a slight increase from the previous year.
Though Pakistan now has stricter laws to punish the perpetrators of violence against women, their implementation is a big challenge for the government.
Author: Ayesha Hasan
Editor: Sarah Berning