Paradigm shift: Pakistani women and politics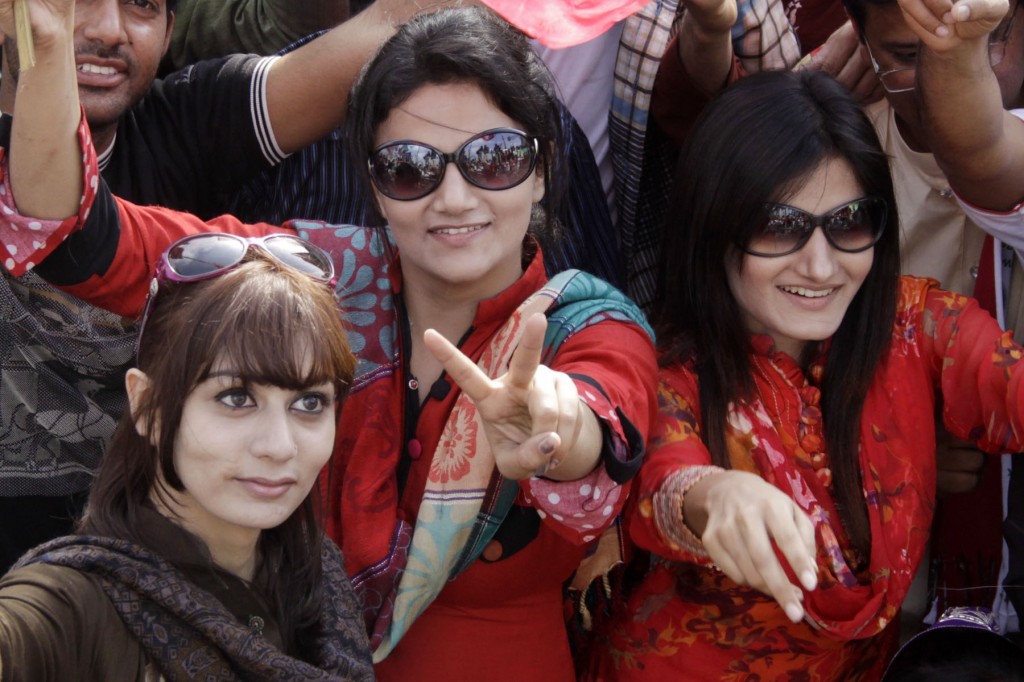 What does it take for a woman in Pakistan to leave her house, take her children along and attend a political rally? I say, more than commitment. Apart from support from the men of her house, she needs to feel safe, among men, that is.
Public gatherings in this part of the world can be a "paradise" for eve-teasers and "hell" for women who are at a constant risk of being groped, whistled at and mugged. If you see a man being beaten up or a woman swearing at the top of her voice, you know that some woman had been groped or verbally harassed. Crowded market-places are a haven for men who indulge in harassing women.
But to my astonishment, I didn't see or face any such incident at the cricketer-turned politician Imran Khan's rally in Lahore on March 23. Nearly 300,000 people had gathered. His party, the Pakistan Tehreek-i-Insaf (Pakistan's movement for justice) has emerged as a strong political party over the years with women at some important posts.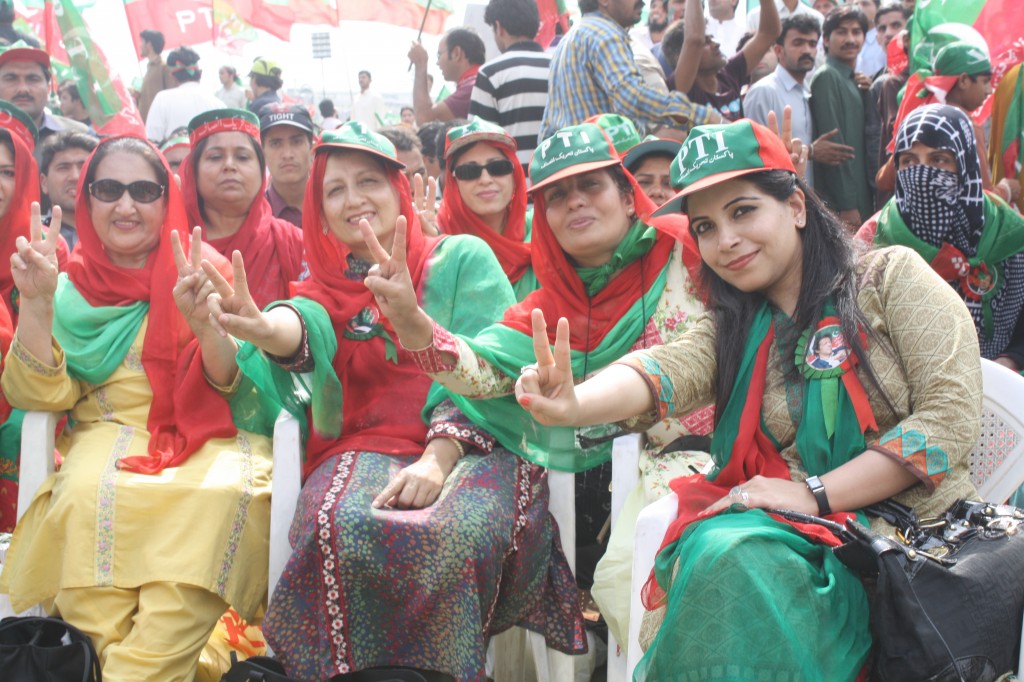 Though scarce compared to the male presence, I saw women participants at the rally stronger than ever. They were smiling and confidently posing for the cameras that turned towards them. I was moving constantly during the gathering, climbing up and down high containers from where journalists were taking their pictures. I for one, could guarantee that women could not have been safer than on that day. The men who were present made way for women to pass by.
From the top of one of the containers, I noticed a group of women sitting in the front row. They were prominent and had covered their heads with traditional silk drapes dyed in the colours of the party's flag— red and green.
One of them introduced herself as Shabana from Gujranwala, a developing city some 200 kilometers from Lahore. Shabana and some other women in her family had hired a public transport van to attend the rally. They had also brought their children along- all this to make their voice count and their presence felt.
And then there were young women volunteers, college students, party workers and participants who applauded for several minutes when the party's vice president announced that his party had 23,000 elected women candidates— the only political party in Pakistan to have such a large number of women.
Last year, the Muttahida Qaumi Movement (translated as the united national movement) organised the biggest women's rally in the country. More than 100,000 women political workers participated, symbolizing the increasing women participation in politics and rallies.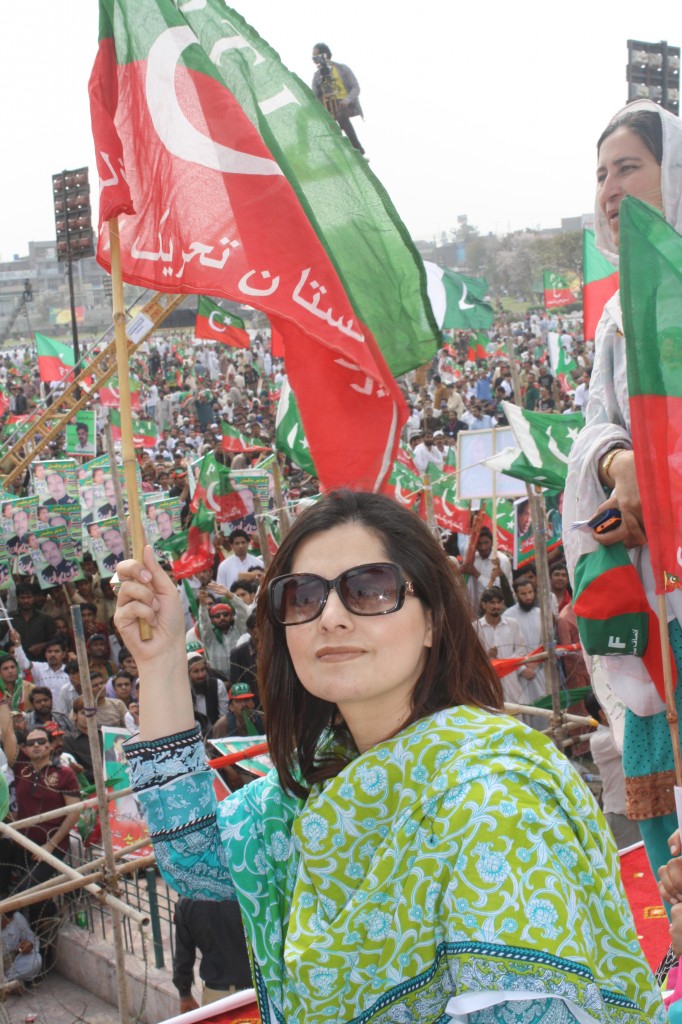 A yet another recent rally presided by Pakistani-Canadian religious scholar Dr Tahirul Qadri at the Pakistani capital in January comprised hundreds of thousands of women. The world was short of words for a few seconds as it witnessed the huge crowd-mostly women and children- stage a sit-in in front of the parliament.
The Pakistani woman has come a long way. Women have been prominent political activists in the Indo-Pak independence movement from the early1900s to 1947 and onwards. However, women activists were silenced when former dictator Ziaul Haq took over from 1979 to 1988, before he was assassinated in an aeroplane bomb. The impressions left by Zia's Islamisation system were so appalling that it took women, who had been pushed into a corner, decades to recover and enter the political scene again. This time they faced bigger challenges, the foremost being the myth that Islam discouraged women's freedom and an evolving perception that "women lacked leadership qualities".
As a teenager in the later 90s and early 2000s, I noticed that women only 'attended' rallies through TV and could watch cricket in the stadiums only if accompanied by their fathers, brothers or husbands.
It's a refreshing change to see that women are now resuming their participation in politics. With general election fast approaching on May 11, women are prominent candidates, political workers, volunteers and for the first time a large voters' club. Political parties, too, have realised the importance of women members in their parties and have thus made their women's wings bigger and stronger. There are more registered women voters than ever- 37.56 million of the total of 86.13 million voters, according to the Election Commission of Pakistan March 2013 report.
With more women on the forefront now, things are certainly getting better in terms of women participation in politics. I am positive that girls growing up in this time will get to participate in rallies and watch cricket at the stadiums- men or no men.
Author: Ayesha Hasan
Editor: Manasi Gopalakrishnan