Women in the news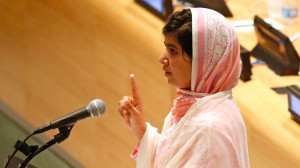 16-year-old Malala may be a heroine in her own right, having survived an attack by the Taliban. However, people in her country think there is a huge hype around her created by the local media. Afghanistan's parliament is scheduled to discuss a law which will protect men who have committed crimes against women and bar dancers in Mumbai are getting back their jobs.
Find out which women's themes made it to the headlines in South Asia.Pakistan's Malala Problem
Last Friday, Malala Yousafzai took to the podium at the U.N. It was her 16th birthday and her first major public appearance since the Taliban's attempt to assassinate the Pakistani schoolgirl last October for her efforts to promote girls' education. The most troubling were the many voices that denounced Malala and her speech as "a drama" – a colloquial expression commonly used to describe a stunt or a hoax.
Read this story in Time magazine
Afghanistan: Escalating Setbacks for Women
International organization Human Rights Watch says, "Afghanistan's lower house is proposing to protect the batterers of women and girls from criminal punishment. Legislative approval of this criminal law revision would effectively stop prosecutions of people who beat, forcibly marry, and even sell their female relatives." This law would effectively deny women legal protection from domestic violence. A new draft of the criminal procedure code, seen by Human Rights Watch, is currently being considered by Afghanistan's parliament.
Sharia courts for Indian Muslim women
Unhappy with the judgments given by qazis, muftis and maulvis, "women shariat courts" along the lines of Darul Qaza (Islamic courts) will be set up by the Bharatiya Muslim Mahila Andolan (BMMA) in the next six months.
Read more in the Times of India
Low pay, hostile environment
Despite a huge demand for women workers in the Middle East, Bangladesh is unable to tap into the potential, as female job seekers are discouraged by returnee workers' stories on horrific working conditions.
Bar dancers in Mumbai celebrate
Seven years ago, when the Maharashtra government decided to ban most dance bars in Mumbai, life changed drastically for a section of the city that usually doesn't get talked about much. While those who owned dance bars attempted to convert their establishments into the legally-permissible 'orchestra bars', the women who did the actual dancing in dance bars were suddenly out of a job.
Editor: Manasi Gopalakrishnan
Tags
Afghanistan
,
bangladesh
,
Bar dancers
,
India
,
Kabul
,
malala
,
mumbai
,
nepal
,
Pakistan
,
south asia
,
women