A year after the Rana Plaza tragedy
On April 24, 2014, an eight-storied garment factory collapsed in Bangladesh, leading to the death of more than one thousand people. Women Talk Online blogger Aziza Ahmed visited the site of the tragedy and narrated her experience in this blog, which we published on April 30 last year.
I haven't seen her, I never knew her until today. I don't know how she looks, was she fair, with long black hair or big wide eyes? Despite her looks, I am sure of one thing, she was a brave human being who dreamt of a beautiful life for herself and her son. She is Shahina, a working in Bangladesh's garment factory. She is the mother of a toddler and she is a fighter. She was one of the ill-fated ones who were trapped inside the collapsed building at Rana Plaza.
On the morning of April 24, the workers began their daily chores after a discussion with the owners and the owner of the building regarding a crack in one of the walls. The entire nine-storied building of Rana Plaza collapsed and came down to the level of a three-storied building. The pillars gave in and the ceilings fell crumbling on each other like slices of bread in a sandwich.
Roughly 3200 people were working there- the number varies from source to source. About 2500 people were saved alive from the rubble, some with their bodies fully intact while some needed to get their limbs amputated after they got stuck under heavy pillars.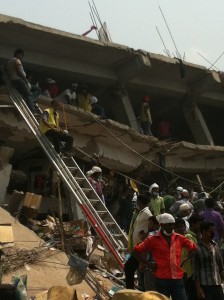 After the fifth day the rescue team found Shahina alive, but she was trapped behind a heavy pillar which was impossible to break through. They supplied her with oxygen and fruit drinks to keep her alive. The collapsing of the building wasn't the only thing that was bad for her, the worst was yet to come.
Suddenly the building was under fire because of the heavy drilling and after 107 hours of fighting, despite all her efforts, Shahina couldn't be saved. Finally the rescue team could only rescue the dead body of their dead sister. Shahina had been crying to see her baby for one last time. The rescue workers, who were working relentlessly for over 18 hours to save her, broke into tears.
I went there two days back. The dead bodies were kept in line in a local school field. I walked down the corridor covering my nose to escape the stench of the rotten corpses, but I couldn't stop crying looking at those bodies, which were waiting to be identified by their loved ones.
I met a mother who said she'd lost her only son in the catastrophe. She was reminiscing her son's childhood and how sweet he was as a child. Around 383 dead people were pulled out of the rubble, even now several hundreds are missing.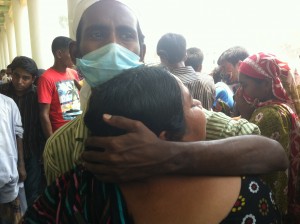 The Bangladesh government, the army, the firefighters and above all citizen helpers have been working for over 144 hours to save each and every worker trapped in one of the most serious accidents of the century in Bangladesh.
Trained and untrained rescuers have risked their lives, they got inside the collapsed building and saved each of those 2500 workers. They got traumatized seeing groups of dead bodies scattered everywhere among the rubble. They became ill with suffocation and dehydration, but the rescue operations went on.
There were volunteer paramedics, civil engineers, doctors, nurses, construction workers, fellow garment workers and journalists. People who didn't get inside the building stood in the sweltering heat with free water and watermelons to serve those who were working in the rescue team and people who went there to provide support.
Relief is pouring in in a big way. Money, food, medical supplies, clothes, medicine, construction materials everything was supplied by the people of Bangladesh. My friends and family kept sending me stuff as I am working with one of the relief team. Everyday we receive hundred of calls from all over the country and abroad, asking for ways to help the victims.
Just when I was getting impatient seeing the catastrophe, when I was numb in horror, sad and devastated to lose so many countrymen, I felt energized by the love of people, by the unity I see among us. We are a nation of hard working fighters who fight and live again to fight another day. I am proud to be a woman who is born of the same blood of Shahina, the epitome of perseverance, strength and zeal. She is not alive, but her baby is. He will grow up and be another fighter and another strong Bangladeshi.
Author: Aziza Ahmed
Editor: Manasi Gopalakrishnan