Bangladesh shelves plan to lower marriage age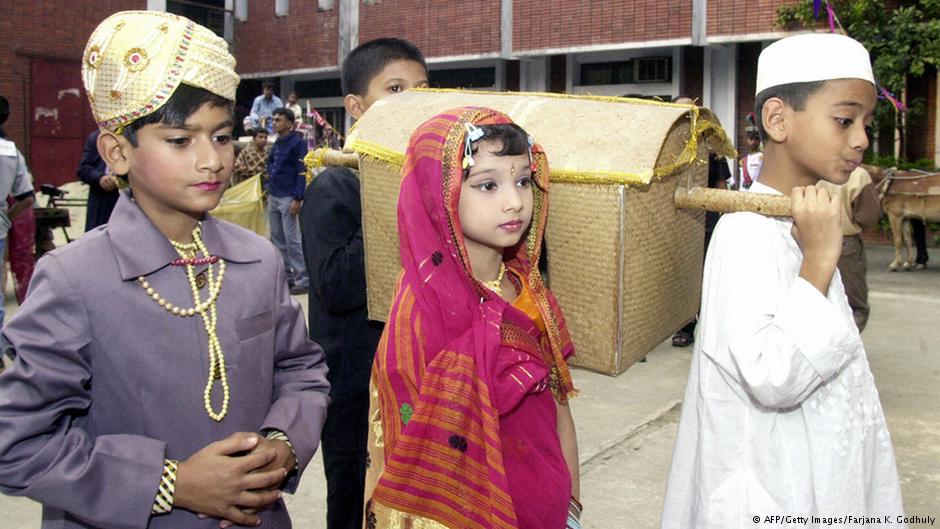 After widespread criticism on social media, Bangladesh government has changed its plan to lower the marriage age. The minimum legal age of marriage will remain 18 for girls and 21 for boys, according to local media.
Child marriage remained a huge problem for Bangladesh since its independence in 1971 from Pakistan. A survey commissioned by Plan International Bangladesh last year found that the country has one of the highest rates of child marriage in the world. 64 percent of women currently aged 20–24 were married before the age of 18. Two percent of them were even forced to get married before they had turned 11.
To reduce the child marriage rate, but not the actual figure of the child marriage (!) – the Bangladesh Cabinet discussed a tricky plan at a meeting on September 15, 2014. They proposed to lower the minimum age for marriage from 18 to 16 for girls and from 21 to 18 for boys. The Cabinet thought such a move would help reduce the rate of child marriage dramatically in the future.
However, the trick was soon exposed in the social media. Women's rights activists immediately termed the proposed plan "a flawed attempt" to combat endemic child marriage in the country. As a result, the hashtag #ChildMarriage began trending on Twitter in Bangladesh.
Bangladesh: Don't Lower Marriage Age http://t.co/IkinWHpc5b

— Ejiogu Chinomso (@pnoritz) 19. Oktober 2014
#Bangladesh seeks to lower girls' marriage age to 16yrs http://t.co/GkF4PPB4oE "socio-econ disaster" #childmarriage pic.twitter.com/NhNBlXoqH4

— Phelim Kine 林海 (@PhelimKine) 8. Oktober 2014
#ChildMarriage = #CHILDRAPE Activists target Bangladesh child marriages!http://t.co/XRkchHOogd @BarackObama @pmharper pic.twitter.com/nCpeC4swYw

— Human Rights (@HumanRtsV) 30. September 2014
Empower girls to delay marriage, resist unwanted marriage & be recognised for their value as individuals, says @HRW http://t.co/eqU1XGsLlk

— Girls Not Brides (@GirlsNotBrides) 17. Oktober 2014
The discussed plan has been criticized by the international organization Human Rights Watch (HRW) as well. The New York-based organization urged Bangladeshi authorities not to lower marriage age. HRW wrote in a news release on October 13, 2014, " The Bangladeshi government should set 18 as the minimum age for marriage to comply with international prohibitions against child marriage."
In #Bangladesh if you marry early (under 18yr) or fix a #childmarriage you risk a fine of $13: http://t.co/mF0bM1MpmW

— Jocalyn Clark (@jocalynclark) 14. Oktober 2014
In line with past commitments, Bangladesh should end child marriage, not lower the age that girls can marry to 16 http://t.co/DxNjRMSQAi

— Elaine Pearson (@PearsonElaine) 15. Oktober 2014
#Bangladesh committed to end #childmarriage. But lowering marriage age is a step in the wrong direction. @hrw http://t.co/MVBrTbdL0A

— meenakshi ganguly (@mg2411) 13. Oktober 2014
Meanwhile, widespread criticism has forced the government to change its mind. State Minister for Women and Children's Affairs, Meher Afroze Chumki, confirmed the change to local media. She told to Prothom Alo, the leading daily newspaper of Bangladesh: "We are considering keeping the minimum age of marriage for girls 18 and for boys 21, as before. The law hasn't been finalised as yet. It will be placed before the cabinet again, if necessary."
The news of the change made its way to the Twitter really fast:
In #Bangladesh, legal age for girls to marry to remain 18 and above. #ChildMarriage to be crime @GirlsNotBrides @hrw http://t.co/CfwzcKVszi

— Awami League (@albd1971) 18. Oktober 2014
Child marriage robs a girl of her future. Can it be stamped out in Bangladesh? http://t.co/FSPUORCFwP #childmarriage #humanrights #gender

— Colleen LaFontaine (@ColleeninLondon) 18. Oktober 2014
At present, Bangladesh has the second-highest rate of child marriage in the world, second only to Niger. The Bangladesh government has pledged to end all child marriage by 2041.
Author: Arafatul Islam
Editor: Manasi Gopalakrishnan
You can follow Arafatul on Twitter @arafatul