The secretive photographer: Vivian Maier
Vivian Maier is now considered one of the most important street photographers of the United States, her fame came posthumously. But since her life was very private the promotion also sparks debates in the art world.
Mystery woman
Who was Vivian Maier? The story of this eccentric woman with an incredible urge to photograph daily life on the streets of New York and Chicago is just as fascinating as her recently discovered snapshots. To those who asked what she did for a living, she'd say: "I'm a sort of spy." An exhibition in Berlin now explores the works of this prolific yet intriguingly elusive photographer.
Mary Poppins with a camera
Born in 1926 in New York from a French mother and an Austro-Hungarian father, she spent her childhood between Europe and the United States. In 1951, she settled in the US and became a nanny, working for different families over the next 40 years. One of the children she nannied would say of this spirited feminist: "She was like a real, live Mary Poppins."
On the go
She'd take the children she was caring for on countless day trips to bustling downtown New York and later to the seedy areas of Chicago and document the world around her. She also travelled alone to remote countries, from South America to the Middle East and Asia. The Rolleiflex she carried around her neck became her trademark, but nobody knew her work.
The memory hoarder
Extremely private, she always locked her room in her employers' homes. She kept the pictures she took to herself, accumulating over the years over 100,000 undeveloped negatives and series of homemade documentary films and audio recordings she had made, but also piles of newspaper clippings and found objects. These would all end up in storage rooms.
Auctioned off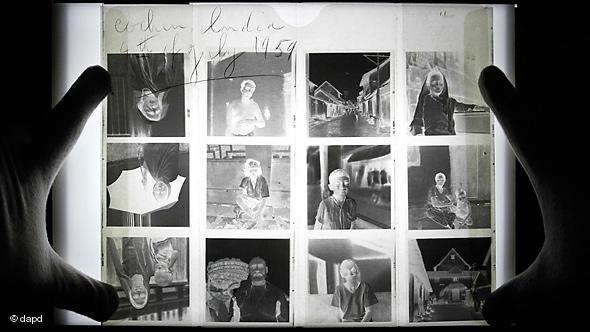 Towards the end of her life, Vivian Maier was too poor to pay the rent for this storage space and her photos were auctioned off. John Maloof, a real-estate agent with a passion for garage sales, bought a box packed with about 30,000 negatives for about 400 dollars in 2007. The amateur historian was trying to find pictures for a book on Chicago, but he did not manage to track down the photographer.
Anonymous death
Even if Vivian Maier is now one of the most famous American street photographers, she had nothing to do with this recently acquired fame. She spent the last years of her life nearly penniless and was almost evicted from her cheap apartment. The Gensburg family, whom she used to work for in the 1970s, helped her out afterwards. She died in 2009 at the age of 83.
Revealed to the world
John Maloof happened to try to track her down again shortly after her death in 2009 and found her obituary on the Internet. It would help him further research her story and get in touch with some of the people who knew her. A discussion he posted on Flickr made the photos go viral. He started promoting her work, developing and scanning Vivian Maier's photographic legacy.
Finding Vivian Maier
Maloof decided to make a documentary on his obsessive detective work, as he tried to find out "why a nanny would be taking all these pictures." The film "Finding Vivian Maier" won several awards and was nominated for Best Documentary Feature this year at the Oscars. Maier's story deviates from the usual narratives about artistic ambition, which makes it so fascinating.
Legal battle
The copyright question may take years to resolve. Some criticize the way Maloof promotes his discovery in the film. Now an ongoing legal challenge is further complicating the case. Maloof, considered to own 90% of Maier's known work, had tracked down a cousin of the artist in France and paid him to secure the copyright. In 2014, the lawyer David Deal challenged this claim by finding another possible French heir, a farmer who did not know Maier. Still Vivian Maier's unique story should not overshadow the quality of her street photography, compared to the likes of Robert Frank and Diane Arbus.
Author: Elizabeth Grenier
Editor: Marjory Linardy
WTO RECOMMENDS
After spending three years in Saudi Arabia, English-born photographer Sebastian Farmborough felt he had to do something to change the country's negative image in the West.
How do we humans react to different circumstances? These photographs capture moments from the lives of human beings from different countries across the world.
In today's tech-savvy and exhibitionist society, the most part of our digital life is consumed by some sort of revealing images. However, in Pakistan, the matter is somewhat different. In a land where YouTube is banned, videos of Taliban propaganda circulate regularly on the web and usually go unnoticed whereas an actress's allegedly "objectionable sex" video grabs the attention of the country's courts.