Tech Needs Girls: equipping Ghanaian girls with IT skills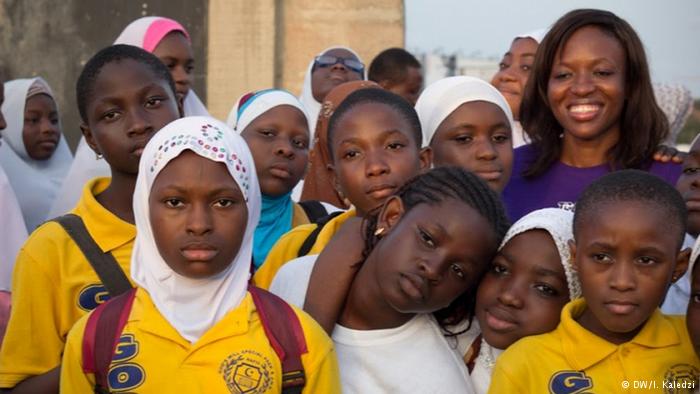 Learning about technology and practical science can help children develop into critical thinkers. That is according to a young Ghanaian entrepreneur who encourages girls as young as six to develop technology skills.
In a small study room in Nima, one of Ghana's biggest shanty towns, Regina Agyare holds forth to more than 50 young girls aged between six and 18. The youngsters listen eagerly, their eyes glued on Agyare as they digest what she is telling them. When Agyare asks "What is technology?" one girl has this definition, "Technology is the use of science to create energy sources, machines, tools and gadgets to satisfy the need of man." Agyare is giving lessons aimed at equipping the girls with IT skills, especially in the area of coding.
30 year-old Agyare, herself an IT graduate, is also an entrepreneur. She runs Tech Needs Girls, an initiative she founded after she quit a well-paid banking job in 2012. Her goal is to encourage as many girls as possible to do technology-related courses; she wants to make sure that girls are not left behind when it comes to innovation.
Economic empowerment
"We are starting off with the basics of computing because we need them to understand what they are going to be creating," Agyare told DW. She says the first lessons are very important because "girls need to understand the world of technology." Agyare believes that all children have the potential of being great innovators if they are well mentored. It is Agyare's dream to see many girls economically empowered and gaining self confidence as they take part in problem solving in their communities.
The tools and apps they develop can be used in a variety of ways, such as promoting the businesses of the girls' families (thereby reducing unemployment), improving security in the shanty town and providing health care information. "It all goes back to teaching them about technology, how to create tools but also with the community focus," Agyare said.
Agyare's initiative has had a huge impact on girls throughout Ghana and she has held computer classes and workshops in many different locations. "It is always amazing, I always enjoy it. Transferring knowledge is always important and for me it's all about breaking it down so that it makes sense," she said.
As a result of her efforts many girls have become aware that they too can take part in innovation.
"At first most of us were afraid to sit in the midst of the boys and do our exercises, but through the work of Tech Needs Girls, we have been able to master the courage to be in the same class with them and even perform better than other guys," said one of the girls in Agyare's class.
Agyare's own technology skills didn't come easily. She had to pass many hurdles to get to where she is today. "I remember growing up, I watched this movie and the man was able to fly with a rocket on his back. At the time I thought everything you see on TV was real so I wanted to build my own rocket," she said. But her dream was shattered by a teacher who told her that it was impossible for girls to build rockets and that girls belonged in the kitchen. She encountered the same attitude when she wanted to study computer science, but she decided to ignore the negative comments and go ahead.
Identify a problem, create a solution
"I have heard a lot of 'no', and once I got into technology I realized I can do so much more and it helped me take an idea from an idea to execution," Agyare said. She is grateful that her family supported her in many ways including her career choice. With the help of the family, she started her software company, Soronko Solutions, which runs the Tech Needs Girls initiative, with only a table and capital of about 500 euros ($530). She now employs more than thirty workers. One of them, Isaac Quaye, thinks Tech Needs Girls is a good initiative.
"Since I came here I have been seeing improvement in the girls. I have been seeing some very young girls who actually know something about HTML and I was a little bit surprised," Quaye told DW. Despite financial challenges, Agyare says her goal is to extend the Tech Needs Girls initiative beyond Ghana. "I want to be a technology backbone for small and medium scale enterprises in sub-Saharan Africa," she said.
She hopes that in the coming years, the girls will be able to identify a problem in their community independently and develop a technology tool that will be able to solve it.
Isaac Kaledzi, Accra / ael
WTO RECOMMENDS
Infolady – the short form for "information lady" is a revolutionary concept that has provided thousands of Bangladeshi women the much-desired freedom and chance to use modern technologies. The infolady project is one of the winners in the Deutsche Welle Bobs awards for the category, "Global Media Forum Award."
Women face inequality in the workplace the world over. That is a fact. We can see this clearly when it comes to pay and promotions. In many, many countries women earn less than men for doing the same job. Conservatively minded men continue to argue that a woman's place is at home with the children. But women are playing a more and more important role in the workforce everywhere.
Every year Forbes releases a list of the top moneymaking jobs for women. It is based on the data from U. S. Bureau of Labor Statistics (BLS). Forbes tracked the median weekly earnings of full-time wage and salary workers in 2014, broken down by gender and occupation, and excluding occupations that employed less than 2,000 women last year.