Mukto Mona blogger Rafida Ahmed visited Germany
DW's the Bobs competition 2015 (#thebobs15) has given an award to the Mukto Mona blog, which means 'freethinker' in English. One of the bloggers of the group blogging site, Rafida Ahmed Bonya, will receive the award on June 23, 2015 at GMF (#dw_gmf). We will follow her during the visit and will include regular updates about her. So stay with us!
_________________________
June 23, 2015
Rafida's statement during The Bobs Awards Ceremony
Rafida Ahmed – Mukto Mona: "I know that we will not be silenced." #dw_gmf

— Marjory Linardy (@LinardyMarjory) June 23, 2015
The 2015 Bobs Awards Ceremony
Mokto Muna winner of social change #thebobs15@shahidul@jaafarAbdulKari#dw_gmfpic.twitter.com/My8iTAvwxU

— Zahi Alawi (@ZahiAlawi) June 23, 2015
Rafida meets the press
#MuktoMona has a lot of support from secular bloggers around the world, Rafida Ahmed talks to @anusinghc #thebobs15 pic.twitter.com/PvTLNc1OuQ

— Arafatul Islam (@arafatul) June 23, 2015
Rafida Ahmed thinks secular bloggers are minorities in #Bangladesh and neither government, nor media support them. pic.twitter.com/nq9Mh9pw3t

— Arafatul Islam (@arafatul) June 23, 2015
#thebobs15 winners meet the press at #dw_gmf #AvijitRoy pic.twitter.com/8maVfHeSvN

— Arafatul Islam (@arafatul) June 23, 2015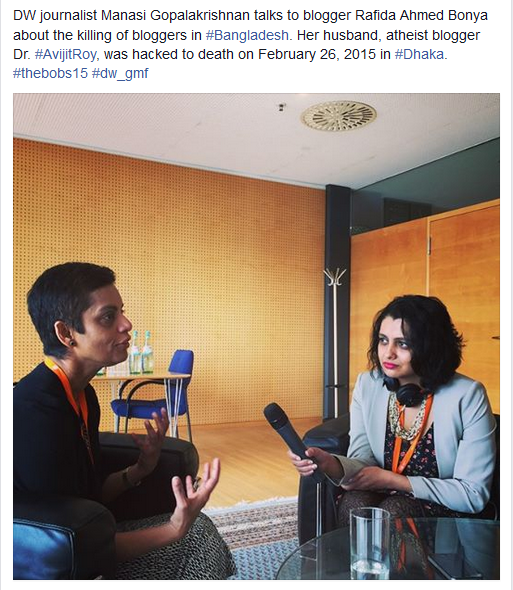 _________________________
June 22, 2015
The opening ceremony of DW Global Media Forum on Monday June 22, 2015.
Peter Limbourg, Director General of DW, opens the #dw_gmf ceremonies. pic.twitter.com/AJHCCXKxcX

— Global Media Forum (@DW_GMF) June 22, 2015
_________________________
June 21, 2015 05:30 pm
Rehearsal time. Rafida and other Bobs winners went to the venue of the Global Media Forum where along with other events, the Bobs award ceremony will take place on June 23, 2015. The venue is the World Conference Center in Bonn, directly adjacent to Deutsche Welle's broadcasting center.
Rafida liked the video DW prepared on Muktomona blogging site. This video will be shown during the award ceremony. A DW video journalist met her in the US to film her interview two weeks before she arrived in Bonn. Subsequently, another DW team went to Dhaka to film the blogging environment there. The new English TV channel of the German broadcaster will broadcast a couple of reports and interviews on the bloggers in Bangladesh from June 23, 2015. The reports will be available on www.dw.com as well.
DW's popular TV host Jaafar Abdul Karim will moderate the Bobs award ceremony. He has posted following selfie after the rehearsal:
v happy to moderate @dw_thebobs ceremony @DW_GMF! Amazing international Winners! just had our rehersal ;-)! #dw_gmf pic.twitter.com/p6BcPo7gWm

— Jaafar Abdul Karim (@jaafarAbdulKari) 21. Juni 2015
__________________________
June 21, 2015 02:00 pm
Rafida, also known as Bonya met with other Bobs 2015 winners and some members of the Bobs team this afternoon. In a discussion with the team, she praised Mukto Mona moderators, advisors, bloggers and the supports for keeping the site alive after the murder of Dr. Roy. The site has been hacked a couple of times after the attack. Rafida thanked the Mukto Mona team for their hard work at that critical time.
__________________________
June 20, 2015 10:30 pm
Rafida spent her first evening in Bonn with her fellow bloggers. Few of them even came from other countries in Europe. A good number of bloggers of the site live in Europe. Some of them are taking this opportunity to meet Rafida.
Rafida said that the site never needed any financial support in the past and doesn't need any such support now. However, she hopes that international human rights organizations should come forward to help bloggers in life threats in Bangladesh. She is willing to support them in this regard.
___________________________
June 20, 2015 11:00 am

Rafida Ahmed Bonya, a blogger of Mukto Mona (Freethinker) blogging site, is in Germany to attend The Bobs award ceremony at the Global Media Forum. She will receive a jury award of the Bobs on behalf of the site and its founder Dr. Avijit Roy. Rafida is known as a defender of free speech in Bangladesh. Rafida was brutally assaulted in a February 26, 2015 attack that claimed the life of her husband, Dr. Roy. Despite the serious injuries she suffered, Rafida has refused to be silenced by the religious fundamentalists behind her husband's murder.
It was widely believed that Rafida was injured because she tried to protect her husband during the attack. She showed her head injuries to DW journalist Arafatul Islam this morning. The deep cuts on her head suggest the attack was meant to kill both of them. One of her thumbs was chopped off during the attack. The Dhaka police haven't preserved the detached part of her finger properly. As a result of their negligence, doctors later failed to attach the thumb again.
____________________________
June 20, 2015 10:00 am

Rafida has arrived in Germany. Our colleague Arafatul Islam received her at an airport near Bonn and posted this tweet:
#Breaking: @AvijitsMM blogger Rafida Ahmed arrives in Germany to attend #thebobs15 award ceremony at #dw_gmf

— Arafatul Islam (@arafatul) June 20, 2015
We have published an interview with Rafida Ahmed in the past, 'Because of my husband's writings the taboo about being a freethinker has been shattered'. Although the Bangladeshi authorities have yet to establish the motive behind the murder of blogger Avijit Roy, his wife claims religious fundamentalists killed her husband because of his writings.
Stay with us for more updates!
You can follow Arafat on Twitter @arafatul
Editor: Marjory Linardy
_______________________________
WTO RECOMMENDS
Going against the norm, Amin has risen in the field of media in Bangladesh, essentially dominated by men, to become an influential opinion-maker as the editor of 'The Star', the most read weekly magazine for 18 years. Her satirical column, 'Postscript', is a cornerstone of modern life in her country for the daring and progressive, and read by many. (From June12, 2015)
Policemen in Dhaka, the capital of Bangladesh, have been in the news this week after officers brutally beat and kicked a girl taking part in a protest against sexual harassment. The incident has been condemned in social media. (From Mai 15, 2015)
This police officer repeatedly said that girls should properly cover themselves to avoid being raped. He told this to a female journalist while sitting in a police station. The interview of the police officer, part of an investigative report by the US Vice news titled "Bangladeshi Gang Rape," appeared online last Saturday. Many people have shared it on Twitter and Facebook. The report also contains interviews of a rape victim, two gang rapists and a Mullah. (From November 27, 2014)
http://blogs.dw.com/womentalkonline/?p=14607   http://bit.ly/1GZyusI
Tags
#dw_gmf
,
#thebobs15
,
Arafatul Islam
,
assault
,
Avijit Roy
,
bangladesh
,
blogger
,
Dr. Avijit Roy
,
Freethinker
,
Global Media Forum
,
Mukto-Mona
,
Rahida Ahmed
,
religious fundamentalists
,
The Bobs