Women in India protest menstruation taboos with #Happytobleed campaign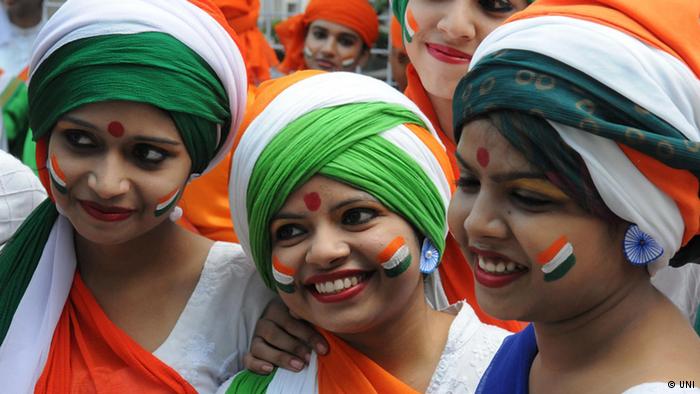 A machine to check for menstruating women – this was a Hindu priest's suggestion after being asked why women were being kept off his temple's premises. The statement triggered an online campaign called #Happytobleed.
The Sabarimala shrine in India's southeastern coastal state, Kerala, is home to the deity Ayyappa. As the legend goes, Ayyappa killed a she-demon called Mahishi and was revered by his people as a kind king with divine knowledge. He is believed to have spent the rest of his life meditating on a hill called the Sabarimala, where a temple in his honor hosts one million pilgrims every year.
Most of the devotees who come to pay their respects are men. Women past the age of puberty are not allowed.
So when the question of when women could enter the temple was raised, the temple's chief priest, Prayar Gopalakrishnan, had a simple answer. "The day there will be a machine to detect if it's the 'right time' for women to enter temples; that day they will be allowed in Sabarimala," Gopalakrishnan said, referring to monthly bleeding in females as an inappropriate time to visit holy sites.
When is the right time?
Gopalakrishnan's answer angered several people, prompting a young woman called Nikita Azad to draft an open letter to the temple priest. "I am a girl of 20. I have eyes, nose, ears, lips, arms, legs just as any human on earth. But unfortunately, I also have breasts, hips and a bleeding vagina. I recently came to know that my blood pollutes the temple Sabarimala and I am denied entry to it because I am a woman who menstruates," the woman said in her letter.
People across India are saying #HappyToBleed after this piece was published on YKA! https://t.co/fMU3lWPCSM pic.twitter.com/3uPBNiEbBS

— Youth Ki Awaaz (@YouthKiAwaaz) 23. November 2015
Azad's statement triggered a whole new online campaign called #Happytobleed to support her plea in breaking taboos around menstruation.
Writer-activist Meena Kandasamy wrote this on her Twitter timeline: "Not sure I'm #HappyToBleed, but I'm damn sure of our right to enter temples."
Users stepped up and spoke with clarity about how women needed to menstruate to be able to bear children :
As a menstruator & a woman, menstruation without stigma & taboo is my right! I'm #HappyToBleed #PeriodOfChange pic.twitter.com/DwUO8Jw7Zl

— Arpita B (@latentappy) 23. November 2015
Even male supporters weren't far behind:
Machine to check purity seriously! Wr is Godliness around God #happytobleed #Smashpatriarchy pic.twitter.com/ZvkkJrNnE0

— pavan mudkani (@pavanmudkani) 23. November 2015
Some of them support equal rights between men and women:
"I'm definitely #HappytoBleed all over #patriarchy. More power to all #equalrights movements!" https://t.co/mMbPtqQ1Ni via @timesofindia

— Deepak Singh (@deepakwriter) 23. November 2015
Does God believe in equal rights?
"I have heard my mother say that women don't enter temples during 'that time'," Nikita Azad writes in her letter, published on the website Youth ki Awaaz. Priests at the Ayyappa temple in Sabarimala argue the god is a bachelor and a "yogi" – someone who has given up all material possessions – and that is why women who have had their periods cannot enter the temple, lest they tempt the god in some way.
Writer Kandasamy has a good suggestion:
If someone talks of how gods (33 million) are distracted by what I carry between my legs. #templeentry #HappyToBleed pic.twitter.com/gl3wznRs6y

— Meena Kandasamy (@meenakandasamy) 24. November 2015
But for women's rights activist Kavita Krishnan, men, women and gods own their sexuality and must take responsibility for their sexual desires. "You can't say that because I would like to be celibate, women aren't allowed around me, because if women come around me, then I cannot be trusted to remain celibate," she argues, adding that the logic is more human, rather than divinely ordained. It is also similar to the kind of logic rapists use to justify their acts, the activist says.
"I feel like telling the Sabarimala people that this may be your prejudice, but why impose it on your god," she asks.
Author: Manasi Gopalakrishnan
Editor: Marjory Linardy
WTO RECOMMENDS
In Karlsruhe, southwestern Germany, one young feminist has launched her own campaign against sexism and rape. Her unusual idea has spread through social media to inspire students in India. (From March 18, 2015)
In the backdrop of the numerous reported cases of rapes, gang rapes and widely visible discrimination against women in India, the German author, artist and social worker Dr. Katharina Poggendorf-Kakar spoke about the India-specific form of such violent acts. Dr. Poggendorf has lived in India since 2003 and travelled extensively through India to understand the basis of such atrocities on women. (From July 14, 2015)
DURGA, a photography project by Sharmistha Dutta that addresses the apathy and gender inequality that exists against women, especially widows in India. WTO Reporter Roma Rajpal Weiß spoke to her on the plight of widows in India and the inspiration behind her project. (From September 15, 2015)
Tags
#happytobleed
,
Ayyappa
,
India
,
Kerala
,
Mahishi
,
meena kandasamy
,
menstruating women
,
menstruation
,
puberty
,
Sabarimala
,
women's rights
,
womensrights