Kurdish women fight odds to broadcast on women's rights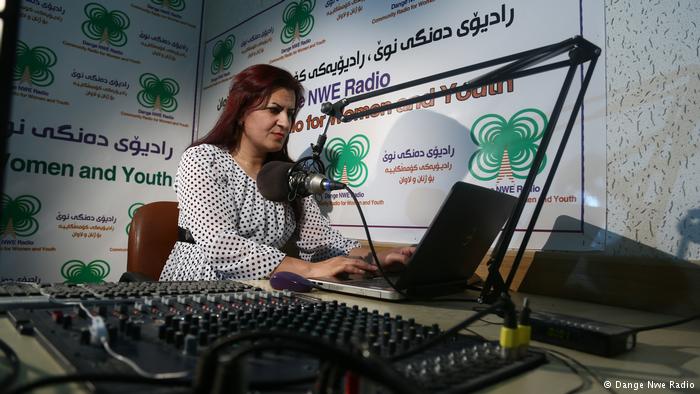 Radio Dange Nwe, founded and run by women in Halabja in northern Iraq, has literally been making waves in recent years. The program fights conservative ideas and helps refugee women discuss and solve their problems.
Halabja is an important city in the autonomous Kurdish territory in Iraq, roughly 250 kilometers (155 miles) northeast of the Iraqi capital, Baghdad. The city made headlines in 1988, when, towards the end of the war with Iran, Iraq's former dictator Saddam Hussein unleashed a chemical attack against its largely Kurdish population. Several thousand people died and many more were injured and fled the area.
Since then, Halabja has witnessed occupation by the Islamist group Ansar al-Islam in the early 2000s, followed by the establishment of an autonomous Kurdish region after the US invasion of Iraq in 2003.
Today, the city serves as a safe haven for refugees coming from war-torn regions in Syria and Iraq, and a special radio project, called Dange Nwe – run by women – discusses their problems and possible Solutions.
By women, for women
Radio Dange Nwe, or New Radio in Kurdish, was founded 10 years ago by Hero Jafaar and her colleague Rangen Mahmood (pictured above). It is an independent news outlet, a unique phenomenon in Halabja, where most news stations are funded by the government or local political parties. It offers its listeners a wide variety of music and entertainment shows, but its main focus is to create awareness on human rights, democracy, forced marriage, divorce, domestic violence and honor killings – dominant themes in the region.
"The main motivation of the project was to help refugees and internally displaced persons in the area, especially women" Rangen Mahmood told DW from the radio station's headquarters in Halabja. By creating awareness through radio shows and by employing women, Mahmood and her co-founder Jafaar ensured that they were not dependent on male members in their family anymore, even for their financial needs.
"We familiarize our listeners with women's rights and their duties. We ask refugees in nearby camps to come to our radio station and speak about the difficulties they face. Sometimes reporters go to refugee camps outside Halabja and speak to people," Mahmood told DW about the program's mandate.
Problems and prospects
Dange Nwe's exclusively female editorial team has faced many problems since it began broadcasting in 2005, especially since after the occupation by Ansar al-Islam, which enforced more conservative codes for women. Iranian influence from across the border also resulted in propagating a more conservative attitude towards women compared to the relatively open-minded Kurdish culture, Rangen Mahmood said.
"There have been many complaints about the programming by religious groups, but that has not affected the work of all the women at the radio. They are very committed to changing this culture," according to Isis Elgibali, who is a member of the Germany-based NGO WADI, which finances Dange Nwe together with Green Cross Switzerland, Medica Mondiale and several other NGOs.
Many women who work at the station have been targets of local gossip. "It is a very conservative place and women are not supposed to have their voices heard in such a public way. […]It's not the way a proper woman behaves," Elgibali told DW. In this context, Radio Dange Nwe acts as a kind of "resistance" against conservative values, she added.
But critics haven't been able to stop Dange Nwe's 80,000-odd listeners from tuning into their favorite channel every day – many of them for a special broadcast for migrants.
Called "Refugee for refugee radio," the broadcast is done by three women, Hiva and Hanin, who fled Syria and Fallujah in Iraq and Shadan from Halabja, who has been working at Dange Nwe for many years now.
Recently the program won the Friedrich Naumann foundation's Raif Badawi prize for their contribution in helping refugees – and critics seem to be silent for now.
Author: Manasi Gopalakrishnan
_____
WTO RECOMMENDS
A number of female journalists in Iraqi Kurdistan are shaking up a male-dominated domain with a magazine that aims to highlight the problems and abuse many women still face. Melissa Tabeek reports from Sulaymaniyah. (From April 9, 2015)
Being a plumber is still usually a "man's job" across the world. But in Jordan, one woman is breaking that mold. And that in a country where only a tiny fraction of women go out to work at all. (From October 29, 2016)
Parveen Bibi was one of the first women to drive a rickshaw in Lahore. Many men react with hostility, but she says it's her business how she supports her family.  (From March 22, 2016)