Zimbabwe's prominent HIV/AIDS activist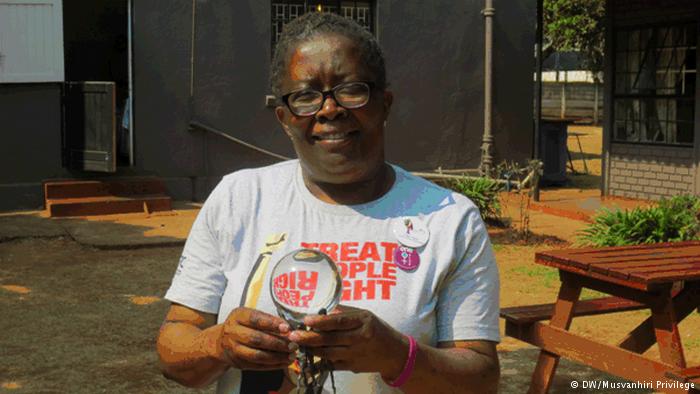 Award-winning HIV/AIDS campaigner in Zimbabwe, Martha Tholanah, is calling for the inclusion of minority groups in national reproductive health programs in order to fight stigma and discrimination.
Martha Tholanah, is passionate about working with minority communities with high prevalence of HIV/AIDS. The 51-year old tested positive for the virus in 2003. This marked the beginning of her fight against HIV/AIDS discrimination. "It was like a death sentence," she recalls.
In Zimbabwe, sex workers and members of LGBTI community are often marginalized in sexual and reproductive health programs. But Tholanah says the fight against HIV and AIDS cannot be won if minorities are left out. "We talk of leaving no one behind, we have all these slogans, but we won't reach the targets set by the slogans if some sectors of the population are left behind because of their identity," explained the family therapy counselor. Tholanah established and headed health programs at Gays and Lesbians of Zimbabwe (GALZ) and the Network of Zimbabwean Positive Women (NZPW+).
According to UNAIDS, Zimbabwe ranks fifth among countries with the highest HIV/AIDS prevalence in sub-Saharan Africa. About 1.4 million people are living with the disease including 170,000 children. Some 450,000 children are orphaned due to HIV/AIDS.  While Zimbabwe has made great strides in the reduction of new infections, the government hasn't been able to reduce the number of people infected within minority groups such as bisexual and transgender communities.
Due to stigma and discrimination there are no statistics on the number of LGBTI people living with HIV in Zimbabwe. Chester Samba, director of Gays and Lesbians Association of Zimbabwe (GALZ) told DW that the push by rights activists like Martha Tholanah could be the only way to ensure inclusion. "Martha has done some commendable work around LGBTI issues, particularly in the health sector and also looking at her level of participation in HIV work in government. Because she is very active in national platforms, she has been able to carry forward the issue of LGBTI people in those spaces."
But her work involves a lot of risks. She has faced social and political scrutiny for representing minority communities. In 2012, she was arrested and charged with running an "unregistered" organization. These are some of the things that worry her associates. "Most of the time, we worry about her security. We worry about her welfare as well, because it is not a simple issue to take forward being non-LGBTI like herself," Samba told DW.
Martha Tholanah has received international recognition for her work. She is a recipient of the 2015 David Kato Vision and Voice Award, an accolade that recognizes and supports the work of leaders who uphold the rights and dignity of LGBTI communities around the world. She was also awarded the prestigious Elizabeth Taylor Award at this year's World AIDS conference in Durban, South Africa.
Now the activist uses her many awards to carry on her fight against HIV/AIDS discrimination. According to Tholanah, Zimbabwe's justice system needs a complete overhaul to curb the high level of stigma against minority groups. Speaking to DW, Tholanah regretted that there was still a lot of stigma and criminalization perpetuated by courts of law. "The justice system does not use scientific knowledge and people are still being convicted for HIV transmission." The activist says she is driven by the passion to "fight for others to overcome the stigma and discrimination in their lives so that they can find self-love and acceptance too."
Author: Privilege Musvanhiri
_____
WTO RECOMMENDS
A lilting tribal tune catches the attention of the gaggle of women gathered at the Integrated Child Development Services (ICDS) center in Jidu Pandra village that falls in Ormanjhi block of Jharkhand's Ranchi district. Almost at once, all eyes follow the sound that is coming from the farthest corner of  the room. (From June 19, 2016)
Nearly every woman in Somaliland was subjected to Female Genital Mutilation (FGM) as a child. Usually, a razor blade was applied to them without an anesthetic. Campaigners want the practice stopped. (From September 6, 2016)