Brave Indian girls and their mission against human trafficking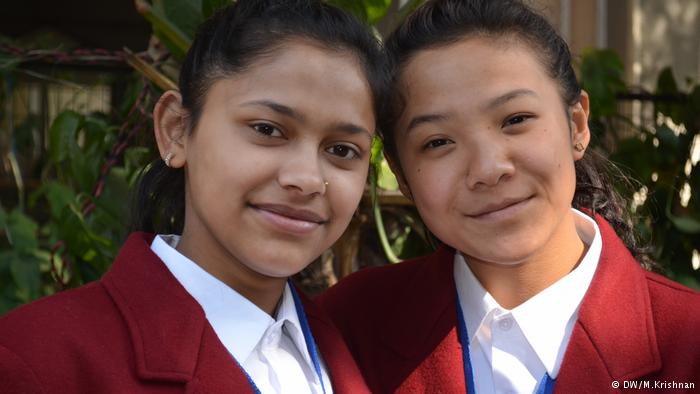 Two Indian school girls have received national bravery awards for helping police uncover and arrest a group of cross-border human traffickers. DW spoke to the two girls about the motivation behind their Mission.
Millions of women and children are victims of sex trafficking in India. The International Labor Organization claims the global human trafficking industry generates around $150 billion annually and India is considered to be one of the hubs for human trafficking-related crimes in Asia. According to government data, every eighth minute, a child goes missing or is trafficked in India.
So it came as a surprise when two schoolgirls took it upon themselves and helped the police smash a cross-border human trafficking racket, leading to the arrest of suspects in the cases of missing girls from both India and Nepal.
In recognition of their achievement, 18-year-old Tejasweeta Pradhan and 17-year-old Shivani Gond (main picture), from the picturesque town of Darjeeling in West Bengal, have now been conferred the prestigious Geeta Chopra Award, an annual award that falls under the National Bravery Awards category.
As part of their courageous mission, both Pradhan and Gond befriended the traffickers on Facebook in May 2016 and spent days communicating with them by telephone, convincing the traffickers that they were willing to run away from home before leading them to the police.
In a DW interview, the two girls said they were motivated to take part in the mission in the belief that if they succeeded, they would save thousands of girls in one shot.
DW: What made you decide to take on this mission given the risks that were involved?
Tejasweeta Pradhan (TP): We were motivated because we were sure that if we succeeded in this daring mission we would save thousands of girls in one shot. We knew of human trafficking because we are volunteers of the Students against Trafficking Club, run under MARG, a non-governmental organization that works to curb trafficking and sexual abuse. It was actually a joint operation, involving the police and NGO Mankind in Action for Rural Growth, which busted the trafficking racket in West Bengal.
How did you plan this out?
Shivani Gond (SG): We got on Facebook posing as people who wanted work and created a fake account. This happened in May last year. The police and the NGO knew about this in advance. It took us three months to work this out. And sure enough, a person got in touch with us and told us the work we had to do. We befriended a woman, who finally turned out to be a conduit for the trafficking ring. We were told that we had to work in hotels and that's when we got the hint that it could be a trafficking syndicate.
But were you not scared?
TP: Obviously, we were scared. But we knew we had team support and the help of the police too. We therefore thought that we could get them or, if it didn't work out, we could abort the mission and just flee.
But either way since we had police backing, they would have been arrested. Our parents were initially apprehensive but knowing that we had support, allowed us to take part in it.
How was the first meeting set up?
SG: We met up in Panitanki, near the India-Nepal border, and waited in a hotel for the people to show up. A group of boys came and they were so young. We could not believe that those boys were traffickers! But we kept our wits. And after a while we signaled to the police and the NGO personnel who were undercover, dressed as waiters. Their cue was when we scratched our heads. The arrest happened shortly afterwards.
Trafficking of girls is widely prevalent in places like West Bengal. Are you aware of the enormity of the problem?
TP: Yes, we are aware of the extent and reach of this problem. We have been taught about it by the NGO where we are volunteers. Everyone in Darjeeling knows about the issue and we hope, by our actions, we can send out a clear and strong message on how gullible people are falling victims to human trafficking. It is extremely unfortunate but traffickers target the poor and their targets do not have the wherewithal to track these unscrupulous elements.
What message would you like to give to young girls across the country?
SG: We have a message especially to girls of our age. Together we can spread the word on awareness. We are living in a social media era where a lot of information is widely disseminated and sometimes people are gullible. So the motto is simply this: Together we can help put an end to this by raising proper awareness of the problem.
Tejasweeta Pradhan and Shivani Gond have been awarded the prestigious Geeta Chopra Award, an award that falls under the National Bravery Awards category, for helping police in uncovering an international human trafficking racket.
Interview: Murali Krishnan
_____
WTO RECOMMENDS
"Often trafficking victims don't even know that there is a label to describe what happened to them," says Luis CdeBaca Ambassador-at-Large to Monitor and Combat Trafficking in Persons from the US State Department. (From August 8, 2014)
Sita's face beams with happiness as she dances (picture). After enduring severe hardship, a group of Nepali girls are now on a tour performing traditional dance across Germany, Austria and Switzerland. DW takes a look at how the Maiti organization offers them aid and shelter. (From September 26, 2015)