A page from my diary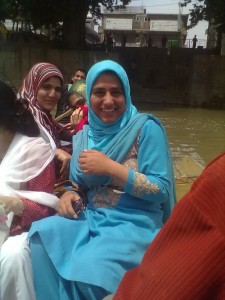 There is always a first time for everything that happens to us. There is something special about the first experience. The case was not different with my first day in Germany. I had never travelled to a foreign country before. When I landed in Germany the feeling was mixed. I was missing home, I was worried, but at the same time the thought of meeting new people and learning new things brought some relief.
It was a cold morning on October 1, when I arrived at Frankfurt international airport. I felt dead tired. I completed the formalities at the airport, collected my luggage and started looking for the way to the train station. I had to catch a train to Cologne and then to Bonn. I was worried, but didn't want to give this impression to the people around.
"Everybody speaks German there, it will be difficult to ask for help", a friend of mine had told me back in Kashmir. Another friend had said, "These German people know English but they are very egoistic when it comes to their language and never speak English even when they know it." I didn't know where to go. I looked around, mustered some courage and tried to take help from a woman who was standing near the escalator, perhaps waiting for someone. But her response was, "No English, no English." I was a disappointed. My friends were right. It's useless to ask for help here.
I decided to find the way on my own, but the woman started saying something in German. "Foolish woman, she is speaking to me in German," I thought, as I looked at her and forced a smile on my face, though I was very upset. She walked towards a man and spoke to him in German. The man was in uniform and he started to walk towards me. I was frightened. My heart started beating very fast. "Has she complained about me? I have heard that Germans don't like people who speak English," I thought.  But I was ashamed of myself for thinking like this later because the man helped me in finding the station. The German woman had told him that I needed help. I was impressed to see how helpful everyone around was. They were all strangers to me but helped me where ever I needed, from printing the tickets to carrying my heavy luggage.
I easily caught the train to Cologne. At the station in Cologne, I was shivering with cold. A woman on the station caught my attention. She was wearing a red coat and had a red cap on her head. She was staring at me through her glasses. She came forward and asked if I was an Indian. After receiving a nod from my side, she started telling about the time she lived in India. I understood a bit of what she said. When the train arrived, she called out to some men and asked them to help me with my luggage. She then turned to me and said in broken English, "You need help, you should open mouth or no one comes to help".
I got my first impression of Germany at the airport and the train station. I was amazed to see how warm and welcoming the Germans are. I was scared at first, but the feeling changed when I experienced how nice people here are. A place is known by its people.
Some time back, I got a call from the Friedrich Ebert Foundation that I would have to travel to Germany and work as an intern with DW for two months. I broke the news at home and as expected, my father was furious. In a conservative society like Kashmir, a girl travelling outside Kashmir all by herself is considered a taboo and I had to travel outside the country. But because of my insistence and repeated calls from my professor at the university, my parents finally let me come here.
Now I find all the reasons that my parents gave for not allowing me to come to Germany, completely baseless. This is the safest place I have known so far. The weather is almost similar to the place I come from. When I left home I thought I would be homesick, but Germany is a place that opens its arms for you and you feel like home.
I am not going to stay here forever. In two months' time I will be back to Kashmir. But I am sure that my stay at Germany is going to be full of wonderful times and memories that I will cherish for the rest of my life.
Author: Ronaq Zahoor
Editor: Manasi Gopalakrishnan